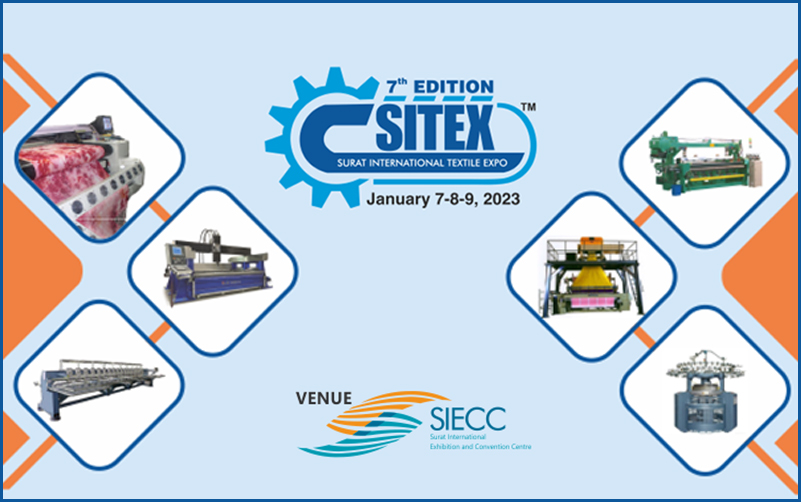 7th Edition of Surat International Textile Expo – SITEX beckons
15 November 2022: With a view to encourage the trade and industry of South Gujarat region while promoting the brand 'Surat' by highlighting the strength of textile sector of Surat, the Southern Gujarat Chamber of Commerce & Industry is once again organising Surat International Textile Expo – SITEX from January 7-9, 2023 at Surat International Exhibition and Convention Centre (SIECC), Bhatar – Althan Road, Sarsana, Surat, Gujarat. The 7th edition's exhibition timings will be 10:00 am to 06:00 pm.
The aim is to provide an excellent opportunity to the manufacturers, dealers, wholesalers and retailers of the textile industry to showcase their wide range of products and services related to textile industry and industry experts to discuss about the latest market innovations. The show will also provide lucrative business opportunities to the business leaders, corporates, manufacturers, entrepreneurs, buyers and sellers in the respective industry and expand their business in the world, and provide them a chance to capitalise on their expertise, diversify or expand their operations in the existing market.
Southern Gujarat Chamber of Commerce and Industry (SGCCI), is ISO 9001:2015 certified organisation. Established in the year 1940, it is the oldest apex body of Gujarat with a total focus on growth and development of trade and industry in the Southern Gujarat Region. This region covers area from Bharuch to Vapi and Umargaon towards Mumbai, which is a fast growing and one of the most prosperous parts of the state. SGCCI has a strong base of more than 9000+ direct members, more than 100+ associations and an indirect membership of more than 80,000+ members from a wide spectrum of trade and Industry.
To make these exhibitions world class and invite international participation, SGCCI has ventured into Surat International Exhibition and Convention Centre, which is spread over 13 hectares of land and has fully airconditioned pillar-less dome of 1,16,000 Sq. Ft. for showcasing products and services.
SGCCI has also focused at sharing knowledge and information with members and public at large through seminars, workshops and training programs on subjects of varied interests. SGCCI is committed to the development and strong evolution of the MSME segment in the Southern Gujarat Region by implementing the various initiatives of the government. Surat has a strong base of manufacturing and is contributing in a big way to the national GDP with the involvement of the micro, small and medium enterprises.
SGCCI is now committed to promote "Brand Surat" worldwide and attract foreign investment to this region which is on the threshold of tremendous industrial growth. People of South Gujarat are very enterprising and resourceful to venture into business beyond the barriers of boundaries. They also look forward to exploring investment opportunities in the other parts of the world.
www.sitex.sgcci.in