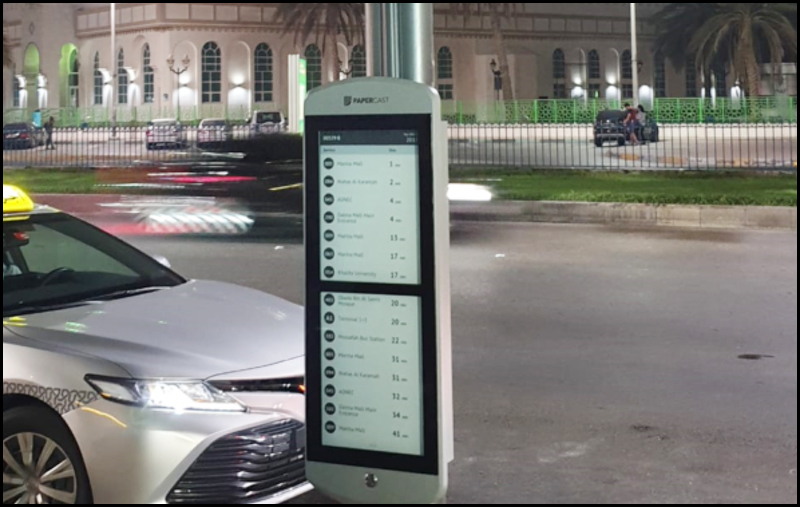 Abu Dhabi Rolls Out 175 E-Paper Bus Stop Displays
09 January 2021: Department of Transport Abu Dhabi (DoT) has installed Papercast solar powered e-paper passenger information screens at bus stops across the capital as part of its strategy to improve access to and utilisation of public transport.
Paper timetables have been replaced with e-paper signage at 175 bus stops in the city's busiest locations and landmarks, following successful proof of concept in early 2019. The project was implemented by Energy International Papercast's partner in the UAE and includes a combination of 100x 13″ single e-paper and 75x 13″ double e-paper displays powered by 20W solar modules.
UAE's capital has seen tremendous growth in recent decades and the DoT has invested heavily to develop a modern transport network in Abu Dhabi. With the overall aim of reducing traffic growth and encouraging a shift to more sustainable modes of transport, the DoT has developed an integrated transport centre in the form of the DARB mobile app and website. Residents can easily plan their journeys with interactive tools and get real-time ETA updates on each mode of transport. For further information see the IDTechEx report on Flexible, Printed and Organic Electronics 2020-2030: Forecasts, Technologies, Markets.
"Implementing a fast and reliable channel for providing real-time information to the public at bus stops was the next logical step for Abu Dhabi," comments Aspi Kapadia, Vice President of Energy International. "The sunlight readable, solar powered e-paper displays from Papercast offered the most effective solution – without the need to pull power and data cables. Wirelessly connected to the Papercast content management system, the DoT is able to easily control the display content."
Energy International provides SMART parking control systems and automated mass transit systems and has supported the DoT Abu Dhabi Parking Management Program for the last 10 years.
The unique attributes of e-paper make it ideal for outside use, with unbeatable screen visibility, even in direct sunlight. Couple this with wireless connectivity and exceptionally low power consumption, and Papercast displays can be continuously solar powered – no power or connectivity cables are required. This means Papercast is quick to install to an existing pole or shelter, while offering a sustainable and environmentally friendly display technology.
Source: www.printedelectronicsworld.com