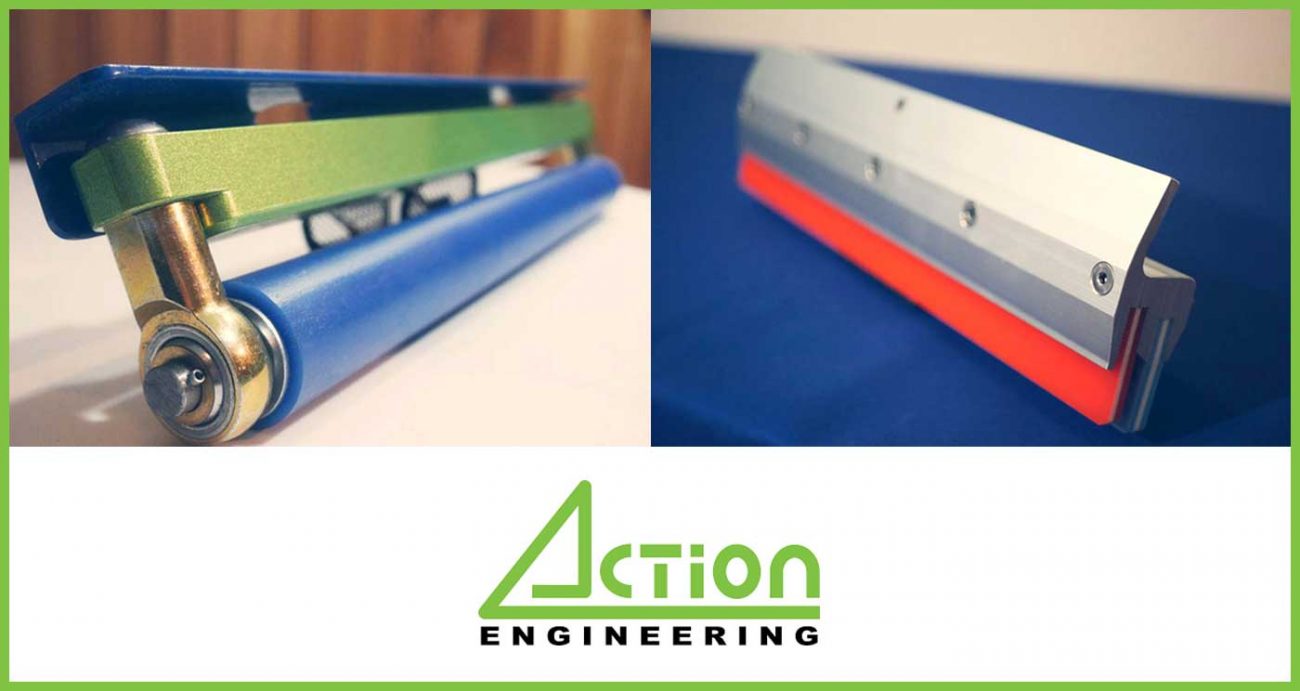 Action Engineering, Inc. : Identifying challenges and providing solutions
Erik Naftal, President, Action Engineering, Inc., shares their USP and focus
I've been in the garment decorating industry since I was 11 years old in 1976. I worked at my father's screen printing shop in Atlanta, Georgia. Most of my time was in the art room making graphics by hand using a rub on – out of the box, Lettra-Set and cutting rubylith. We had a camera to reduce or enlarge the artwork, and then we used a contact table to flash and produce a positive film. It was dipped in developer, then to a fix agent, and finally rinsed with water and hung up to dry. I made screens, set up jobs, loaded shirts, unloaded shirts, and played catcher on the end of the dryer belt – for many years. Today – we have computer generated graphics & CTS (Computer to Screen) which makes the old ways look as ridiculous as trying to make fire by rubbing sticks together.
When I first entered the industry, the most popular automatic screen printing machines were loud, clunky, hydraulic beasts that were made by a company called Precision. When I think of those machines and compare it to what is standard technology and features on presses today, it's truly staggering. Our industry has more than kept up with the technological advances of the last 4 decades.
Finding ways to improve efficiency, quality, and to make the printing process easier has been the genesis of every product that I have ever worked to develop. A $1000 solution to a $100 problem is not innovative. However, a $100 solution to a $1000 problem is innovative. Innovation is driven by first identifying a challenge, and then by economics. There have been plenty of times that we investigated a product to develop and then realized that the economics don't work. So we move on.
During the earlier years of our company's development efforts, every one of the products brought to the market were based solely on my personal experiences working in a shop. As my network of industry friends grew, and the years passed – our development efforts are now more so driven by advice from people I have great respect for and by our customers.
I have always said that no matter what it is – "as soon as you make it, it's obsolete." The reason for this is simply that as soon as you have it in your hands you realize what you want to do next to make it even better. We are constantly redesigning products not because the market or our customers demand it, but because we simply looked at it and realized how much better it could be.
We have developed hundreds of different products over the past years. Our website now has so many unique items available in every possible size that I'm challenged to count them all. And that is seriously just a fraction of the custom designed assemblies that we've worked on. When I look at my computer records that date back to the early 1990's, I can only just shake my head at the enormous number of things that we have worked on over the years that never went anywhere.
There have been so very many times we spent countless dollars and days to develop a prototype and then realized when we're finished that – nah – forget it. That's what it takes to be innovative. It takes finding 19 ways how not to solve a problem before you actually get it right. Innovation requires many iterations of trial and error – and starting from scratch. Innovation takes persistence, dedication, and an understanding of the problem and how economics drive direction.
Two of the most recent products I developed are crazy simple. One – a Pallet Paper Changing System. This allows a single person to easily apply pallet paper to screen printing pallets. It should have been done years ago. If you have ever personally put the paper on pallets many times during a day, you'll understand it immediately. Applying the paper is cumbersome, rough on your hands and just plain no fun at all. This new product just makes it so much easier. It's not something you can easily put an ROI to, but if you're the one putting the paper on – you'll justify it just because of the convenience factor.
Another crazy simple item is a squeegee cleaner. This ridiculously simple tool scrapes excess ink off of the squeegee blade. This hand tool has a slot the same width as the squeegee rubber. With one pass, you remove all the ink from both sides of the squeegee and put it back in the ink bucket. It makes cleanup faster and saves money on ink. It's one those items that when you show it, everyone immediately gets it and wonders why it wasn't done before. This is by far the simplest product we have ever brought forth. They're made of ¼ inch aluminum, powder coated and sold cheap. If I was a fortune teller I would say in a few years there will be a few in every shop in the country. They're what we think – you'll call a no brainer.
Currently we export and ship our products worldwide. DCC Print Vision LLP has done a fantastic job distributing our products in India. I also want to say thank you to our many loyal customers, dealers, friends, and fans. You're support and trust in our company has allowed us to continue our efforts and find new solutions for the ever many challenges that confront this industry. I want to also thank the ones that came before me and have provided so many years of great advice, feedback, and direction. Your mentorship is most sincerely appreciated. Lastly, thank you very much to the gurus at Screen Print India who found our years of work to be worthy of being mentioned. Thank you all – and I can't wait to see what the next 25 years bring! 
www.ActionEngineering.com