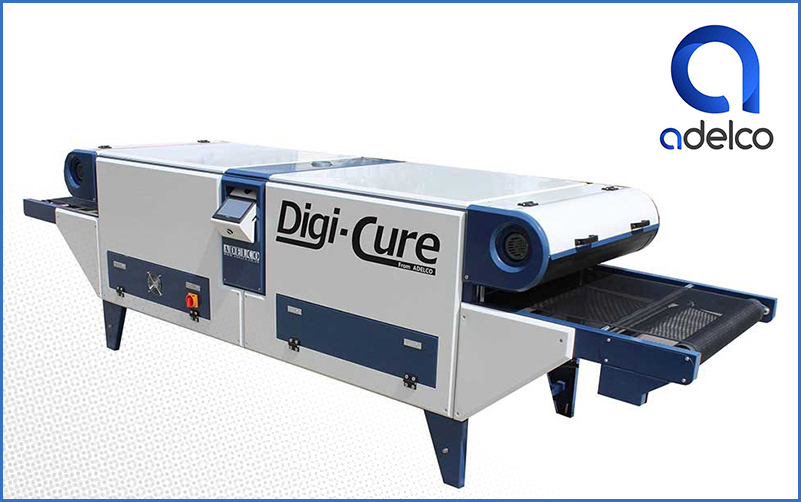 Adelco Launch New Digi-Cure + Dryer
10 August 2022: Adelco Digi-Cure + is an updated version of the small, but mighty Digi-Cure textile conveyor dryer. This solution is aimed at providing great value with excellent curing ability for all textile ink systems, both digital and conventional.
This new version comes with many unique and advanced features that will boost efficiency, conserve fuel and improve the longevity of the print and the dryer. Maintenance is now effortless, saving money and resources.
New features include:
Twice the airflow: New exhaust oil drip tray, located at the edge of the dryer for easy access and cleaning.

Integrated heating element monitoring. Notifies on screen if a heating element fails.

Main isolator position, in an easy to get to location.

Quick tool free removable side and top panels, for easy access for maintenance.

Slide out air filter for easy cleaning (no replacement filters required).

Conveyor belt tracking system.

Built in infeed/ outfeed fume extraction system keeps working environment clean.

Sophisticated HMI control panel interface with dryer fault diagnosis and automatic digital belt speed in minutes and seconds.

Exhaust on the edge of the machine to stabilise temperature.
Mark Smith of Adelco said "Adelco have always concentrated on high airflow and efficient exhaust systems as the best medium for curing digital and screen inks with minimum effect to fabrics. The popularity of our dryers for digital printing systems and conventional water-based inks is a direct result of our reputation for supplying the most efficient dryers in both curing ability and low running costs. The Digicure + provides such curing standards but at a more affordable price, for those wanting specialty textile inks."