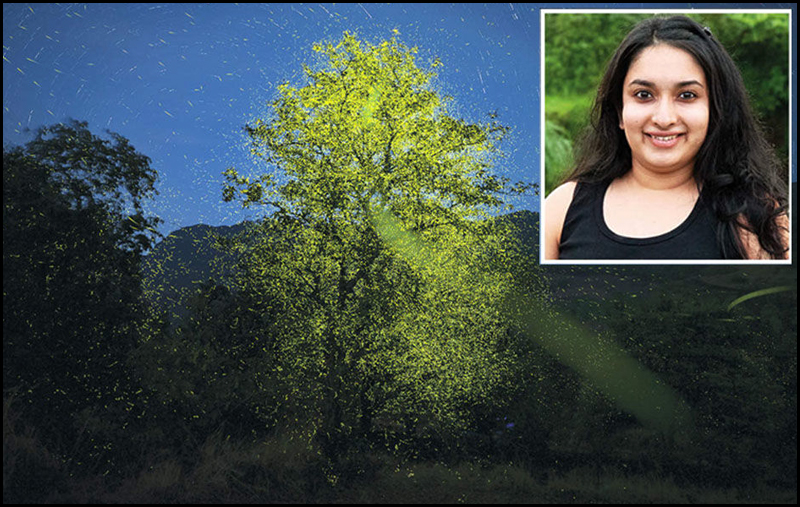 Aishwarya Sridhar becomes the first Indian woman to win at 56th Wildlife Photographer of the Year
26 December 2020: On the 13th of October, the 56th Wildlife Photographer of the Year awards were announced by the Natural History Museum, London. Established as of the most reputed awards in the genre of wildlife photography, it witnessed over 50,000 entries coming from over 80 countries this year and only 100 images were awarded. This year marks a milestone for Indian wildlife photography as Aishwarya Sridhar bagged an award in the adult competition – making her the youngest and first girl to win the coveted award from India in the Adult competition.
Aishwarya received the Highly Commended Award in the Behaviour-Invertebrates Category for her entry titled 'Lights of Passion'. This breathtaking photograph was captured using the Canon EOS-1D X Mark II camera and Canon EF16-35mm f/2.8 L II USM lens at focal length 24mm; shutter speed 24 sec, f/2.8 and ISO 1000. The Canon EOS-1D X Mark II served as an ideal camera to capture such an image in a low light setting with its enhanced light collecting performance and the ability to convert light into digital signal.
Along with being a wildlife photographer, Aishwarya is a writer, filmmaker, and a passionate conservationist. Her journey with wildlife photography started 10 years back and since then, she has been wanting to make a difference in society with her images. In 2019, she got an opportunity to use her pictures to revive a wetland and has won many international and national photography competitions. Her first documentary ''PANJE the Last Wetland'' was telecasted on DD National and the second '''Queen of Taru'' was awarded at the 9th Wildlife Conservation Film Festival, New York. She has also received the Woman Icon Award 2019 in the Media category for using photography in conservation and the Diana Award 2019 which is given to young change makers aged 9-25 by the Royal House, London. Her pictures have been published in leading international and national magazines like BBC Wildlife, Mongabay, Guardian, Sanctuary Asia, Saevus, Hindustan Times, TOI, DNA to name a few. She has also been a speaker with TEDx and is a Global Goodwill Ambassador.