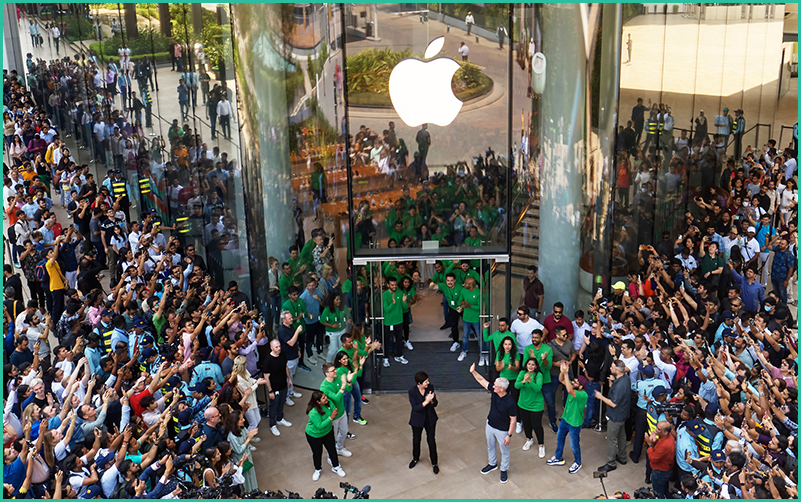 Apple BKC Now Open in Mumbai
19 April 2023: Apple BKC's more than 100 team members greet the first customers to Apple BKC in Mumbai, the company's first retail location in India.
Apple BKC opened on 18th April 2023, in the heart of Mumbai's bustling Bandra Kurla Complex financial, arts and entertainment district. Apple's first retail location in India is serving as a dynamic space where customers can come together, explore Apple products and services, enjoy exceptional service and learn how to get more out of their devices through free Today at Apple sessions. Apple's flagship store is spread over of 22,000 sq ft. of area.
Customers can also participate in a special Today at Apple series, "Mumbai Rising," running from opening day through the summer that will bring visitors, local artists, and creatives together.
This week, as Apple celebrates more than 25 years in India, the company is marking a major expansion with the opening of its first Apple Store locations in the country, along with new environmental initiatives and a key milestone in the rapidly growing community of Indian developers.
"At Apple, our mission is to enrich lives and empower people around the world," said Tim Cook, Apple's CEO. "India has such a beautiful culture and an incredible energy, and we're excited to build on our long-standing history – supporting our customers, investing in local communities, and working together to build a better future with innovations that serve humanity."
India's vibrant community of app developers now supports more than 1 million jobs. A testament to the tremendous growth of developers in India, App Store payouts to developers in the country have more than tripled since 2018.
At the iOS App Design and Development Accelerator in Bengaluru, Apple works one-on-one with developers to help take their apps from good to great. Since 2017, the accelerator has hosted sessions for more than 15,000 developers, enabling them to build on their ideas and bring cutting-edge apps to the market.