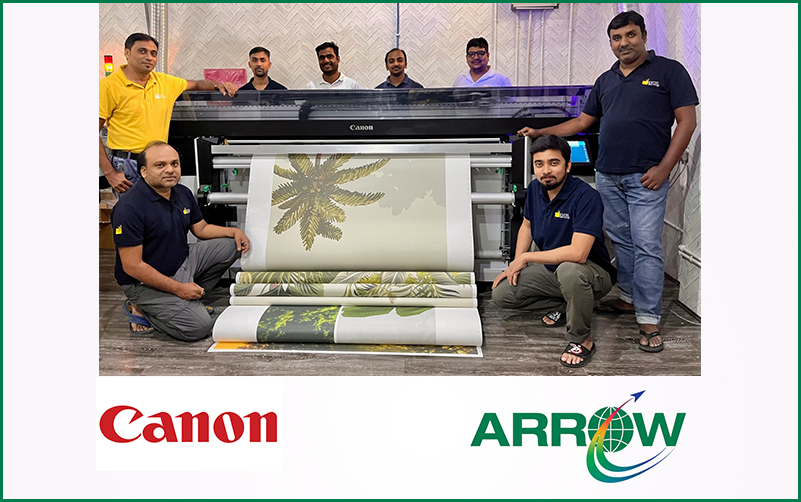 Arrow Digital Installs Canon Colorado 1650 at Excel Home Decor, Kolkata
25 April 2023: Arrow Digital has recently installed Canon Colorado 1650 printer at Excel Home Decor (P) Ltd. We are excited with yet another install in the Wallpaper Industry and are sure this technology will bring a revolution in the Wall Graphics Industry and will move it more towards digitalization and mass Customization.
Excel Home Decor has been one of the Largest & Most Appreciated Wallpaper Brands since 25 years and is known for its quality and reliability. The addition of Canon Colorado 1650 printer is expected to enhance its productivity, customer satisfaction profitability, giving them a competitive edge in dominating the wall decor market.
Sam Patel, CEO & MD adds "Canon Colorado 1650 printer is an advanced digital UVgel printer with flexible matte and gloss inks designed to produce stunning wallpapers and decals. With its unique FLXfinish+ technology and the option to choose between gloss or matte finish, the Printer stand out in the competition. Its UVgel inks provide perfect image stability even when prints are folded, bent, or stretched. This revolutionary printer solves many challenges while speeding up production, meeting deadlines, and taking up new premium jobs."
Tamim Mandsaurwala, MD of Excel Home Decor (P) Ltd. adds "Wall decor industry is booming and people are looking for more premium, customized, and unique options. We are confident that Canon Colorado 1650 printer will keep us one step ahead of our competitors, Colorado 1650 with a resolution of 1,800 dpi will allow us to produce glossy wallpaper as well us matte finish wallpapers with brilliant colours which will delight our customer. Plus, the simplicity and reliability of this technology to create applications are unmatched when we compare with other technologies. Colorado 1650 has an ink hardness and scratch resistance that allows products to be processed immediately, even without further finishing."
Sam Patel added "With consistent fast outputs and rapid job turnaround, this printer is designed to shorten lead times and empower non-stop printing for unmatched productivity. No need to babysit the printing process as it is equipped with two media rolls with online switching and ink refill while printing."
www.arrow-digital.com