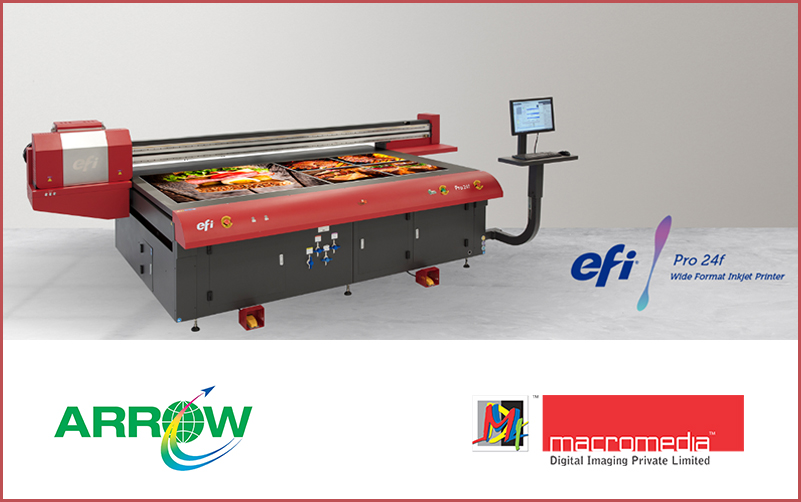 Arrow Digital Installs EFI Pro 24f Flatbed UV LED Printer at Macromedia, Hyderabad
31 August 2022: Naresh Kumar Dasari, Director at MMDI, said, "We have been in this industry for more than two Decades and are catering to most of the brands, government sectors and many others. We have a complete 360-degree solution from Print to Finish and know the bottlenecks of this industry."
He further said, "We have many EFI Roll to Roll and EFI Hybrid Printers, but wanted to shift the rigid jobs to a dedicated Flatbed Printer. With a Flatbed, you always get that precise text and high-resolution graphics on Rigid. He adds, "We were completely blown away with the Printers Performance. The EFI Pro 24f Flatbed produces vibrant Colors and has great print speed. The printer's white ink produces a very opaque, bright white colour, which increases our print quality. Along with that, its premium quality imaging capabilities, high versatility and productivity of EFI, cool cure & LED technology makes it worth to go for.
Sam Patel, CEO & Managing Director, adds, "The EFI Pro 24f UV LED Printer is a highly strategic choice for signage, photographic backlit displays, art reproductions, membrane switches, graphic overlays, lenticular prints and other specialty applications. It has a 1.2 x 2.4 meter flatbed architecture that features a multi-zoned vacuum system, eliminating masking while ensuring accurate registration for multiple over-prints or panels. It's built-in EFI Fiery proServer Core digital front end gives users the power of faster job processing, along with a host of color management and production options for a complete, turnkey solution."
EFI Pro 24f Flatbed boasts print speeds up to 1157 ft2/hr., 1200 x 1200 dpi image quality and low curing temperatures that enable substrate diversity for higher-margin work. This feature expands the possibilities and helps serve customers in better and broader ways.
It is amazingly flexible and can handle media as thick as a 2-inch block of wood or as thin as a window cling. This flexibility of EFI 24f makes businesses stand ahead of their competition. The EFI ProGraphics UV LED Rigid Ink provides the best surface mar resistance and is ideal for printing on specialty rigid media, such as lenticulars, steel, aluminum, wood and many others. The inks adhesion, quality and performance makes you feel confident on the product.
www.arrow-digital.com