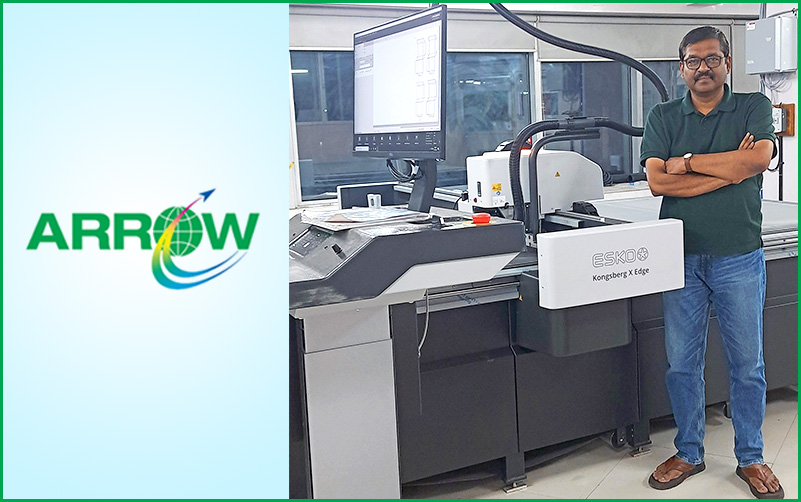 Arrow Digital Installs Kongsberg X24 Edge at VGA Digital Printers, Pune
15 October 2022: Arrow Digital has installed Kongsberg X24 Edge at VGA Digital Printers, Pune. VGA, a renowned name in the Printing industry and an old customer of Arrow Digital, has added the Kongsberg to increase their production capacity.
Sam Patel, CEO & MD at Arrow Digital, adds, "It has been years working with Mandke, and it has always been a pleasure to join hands with him. This new addition will help VGA address the print-to-finish jobs and remove the need for manual or outsourcing interventions."
The X24 Edge can handle any type of application for signage, display and packaging with high production speeds and exceptional cutting quality. The best part is that it is field upgradable. So, you can eventually upgrade as you increase the job capacity with seamless finishing options of Kongsberg. This finisher is capable of cutting a variety of Substrates and is very simple to use. I
Mandke, Director at VGA Digital Printers, said, "We have high-speed printers and finishing has always been the hurdle. Depending on outsourcing reduces the throughput, no control on QC and was a logistics nightmare; with the tightening of the skilled labor, we could not get the final printed products out the door; now turnaround time is faster and we can deliver the final finished product with a rapid turnaround. With Kongsberg, we are confident in increasing our capabilities, which lends itself to finding more clients and increasing our production capacity. There are several finishing tables in the market, but we needed a sturdy and rugged table which can last for years.
Sam adds that The Kongsberg provides a complete spectrum of tooling to finish the entire range of media from soft to rigid substrates. The rack-and-pinion drive system offers speed, sturdiness and strength, which enables customers to finish thick or thin materials with ease. The i-cut Production console offers users powerful functionality for signage, display, and packaging production.
www.arrow-digital.com