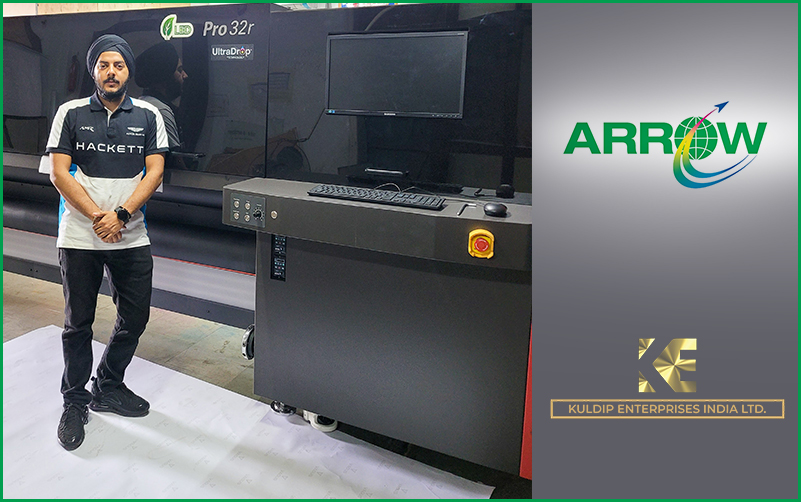 Arrow Digital Installs the EFI Pro 32r+ Roll to Roll Printer at Amazing Prints, New Delhi
05 September 2022: Kuldip Enterprise (Amazing Prints) is a display manufacturer, providing all types of signage and fabrication solutions to various brands & Corporates. While discussing with the Managing Director of Kuldip Enterprise, Harbhajan Singh and Ekamjeet Singh, we uncovered their vision and planning for the future in digital signage with this new installation.
While discussing, he said, "We have more than four decades of expertise in the Signage Industry, and our Clienteles are associated with us for a long time as we are providing them the comfort of Perfection, on-time Printing, Quality and Reliability."
When asked about the relationship with Arrow Digital (P) Ltd. he added, "We have been working with Arrow Digital for many years and love the technology they bring to the table. Arrow has a complete solution for all the Print Providers. Moreover, this is backed up by world-class Service Support, which never lets you face downtimes. We bought the Kongsberg Digital Finisher just a few months back from them and were happy with the Performance and Capabilities of the Finisher."
"When we planned to go for a Roll-to-Roll Printer, Arrow was our first choice. We saw the EFI Pro 32r+ at Media Expo and were thrilled by its capabilities, especially the printer's out-of-box applications. It was the real showstopper. The printer is a mixed bag of capabilities. Its advanced LED Technology allows you to print on those sensitive materials, which becomes a nightmare for other technologies. The 5 Layer Printing, the Blockout or the Backlit, and whatnot. These Premium Applications make you stand out from the crowd in this competitive world. The EFI Whites and Blacks are non-comparable with other technologies." He narrated.
Prakash Chopra, VP (Sales) at Arrow Digital, adds, "It has been great bonding for years. They understand the need for Perfection and always stand ahead with technology. This New Addition will help them manage the TAT and will also help to add more prestigious clients to its kitty. This revolutionary 3.2-meter wide-format production Level LED Printer is an economical and versatile solution for any digital printing business offering premium applications. You also get EFI's 7-picolitre UltraDrop Technology imaging for high-definition print quality with the lowest ink consumption."
www.arrow-digital.com