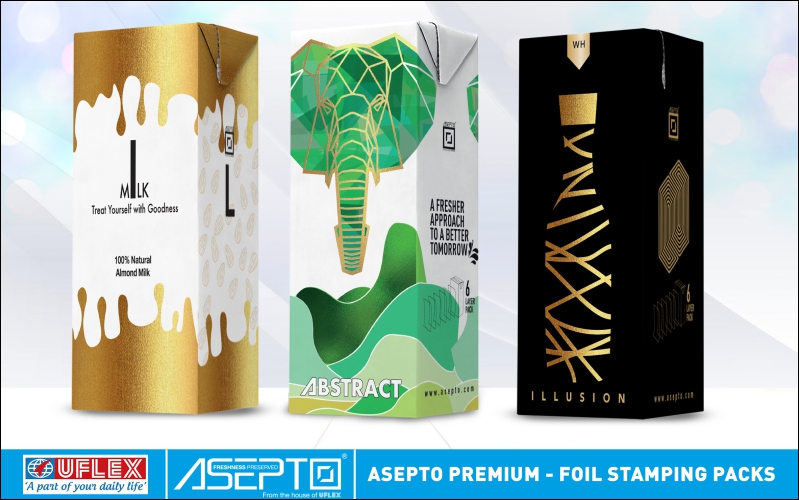 Asepto from UFlex to Showcase 'FOIL STAMPING' Global Innovation at Gulfood Manufacturing 2021, Dubai
29 October 2021: UFlex, India's largest multinational flexible packaging and polymer science company, and the first Indian manufacturer of aseptic liquid packaging material and filling lines under the brand name Asepto, will showcase its never-seen-before revolutionary 'Foil Stamping' innovation for the beverage industry at the Gulfood Manufacturing Expo 2021 in Dubai, to be held during November 07-09, 2021. 
Asepto has a strong presence in the Indian market already and is rapidly growing into international geographies. It has established itself as a distinct brand for its strong technology-oriented innovation to deliver unique packaging features to beverage manufacturers all over the world.
Speaking about this unique innovation, Ashwani Sharma, President  & CEO of Aseptic Liquid Packaging Business at UFlex stated, "Unseen remains unsold on a crowded shelf, so visibility is crucial, and the more eye-catching the packaging is, the more visible it is to the consumers. Our company's guiding vector is innovation to create value-added differentiator. ASEPTO packaging exemplifies our ability to stand out at the point of sale, which is advantageous to the beverage industry. Our premium range of Foil Stamped packs, one of our several USPs, has the ability to create a substantial market differentiation in this segment. Foil stamping is an aesthetic rejuvenation technique that is used to make text and patterns on the packaging stand out." 
Asepto is known for its innovative value-added features and as a total system supplier, it has already carved a niche for itself in the market. Talking about the potential that the brand offers to global beverage manufacturers, Mr. Sharma added, "Gulfood Manufacturing is the most influential exhibition of the Food & Beverage industry and every year, we follow a ritual to share Asepto's packaging experience with our global customers. We are all set to dazzle the stage once again with our artistically revitalizing global breakthrough of 'FOIL STAMPING' in aseptic liquid carton packaging. Our ongoing efforts are focused toward providing first-hand experience to our worldwide customers and developing new sustainable packaging trends."
If you are visiting Gulfood Manufacturing, Dubai during November 07-09, 2021 and would like to know more about Asepto packs with the unique 'foil stamping' effects, reach out to us at Stall Number B7-28, Hall Number 7.
www.uflexltd.com