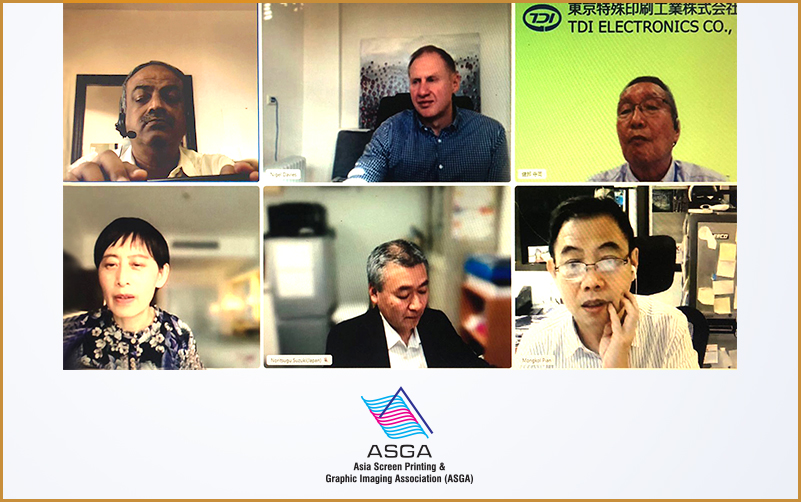 Asia Pacific Screen Printing & Graphic Imaging Association (ASGA) Conducts Member Nations Meeting Online
19 May 2023: Asia Pacific Screen Printing & Graphic Imaging Association (ASGA) member nations meeting was held virtually on May 17th 2023 at 1:00 pm (Beijing time). The member nation's representatives interacted online using the Skype platform. The meeting was held after a gap of 3 years due to the COVID-19 global pandemic and related issues. Representatives of associations from India, China, Japan, Thailand and Australia attended.
The proceedings commenced with welcome speech by Jennifer Shen, Chairwoman of ASGA and Chairman of China Screen Printing & Graphic Imaging Association (CSGIA). Minutes of the previous ASGA Board Meeting, which was held in November 2019 at Shanghai were presented by Mongkol Pion of Thai Innovative Printing Trade Association (TINPA). Financial Report of ASGA was presented by Japanese Screen and Digital Printers Association (JSDPA).
The Exchange of Country / Industrial Status was then presented. Devang N. Sheth, Secretary of Screenprinting and Graphics Association of India (SGAI) shared the India report, Jennifer Shen, Chairwoman of ASGA and Chairman of CSGIA shared the China report, Mongkol Pion of TINPA gave the Thailand report, Nigel Davies, President, FESPA Australia Association shared the Australia report and Takeo Teraoka of JSDPA presented the Japan report.
The future activities of ASGA were also discussed, to maintain ASGA for mutual communication foundation in the Asia Pacific region.
It was also conveyed that video messages from ASGA member countries were displayed during the inauguration of DS Printech 2023 (International Screen Printing & Digital Printing Technology Fair) held from May 16-18, 2023 at Guangzhou, China.
The next ASGA Board Meeting will take place during DS Printech 2023 Expo at Shanghai (November 21-23, 2023) and during this show ASGA is planning an ASGA Forum with technical seminars and the ASGA Print Award Competition from members of ASGA countries.
ASGA was launched in 1994 due to distinctive characteristics and market needs in the Asian region. As the screen print industry in Asia grew, the need to organize and have an apex coordinating body became clearer and more urgent. Industry leaders felt this was needed to strengthen the screen printing industry in the region and enable it to acquire an international standard as well as to assure greater expansion of the industry.
In 1994, the association was founded as Asia Pacific Screen Printing Association (APSPA) and four years later, in 1998 it was renamed as ASGA (Asia Pacific Screen Printing & Graphic Imaging Association). ASGA, right from its inception, has been a forum for screen printing operations, companies and associations to create closer ties and co-operation. Significant attention and efforts have gone into the formulation of rules, regulations, roles and responsibilities for ASGA as the premier screen printing association for the Asia Pacific region.
ASGA's major objectives are to create friendship, co-operation and development in the screen printing industry. The attempt has always been to knit closely the fabric of inter-country cooperation and collaboration and to represent Asian screen printing interests, both within Asia as well as to the world at large.