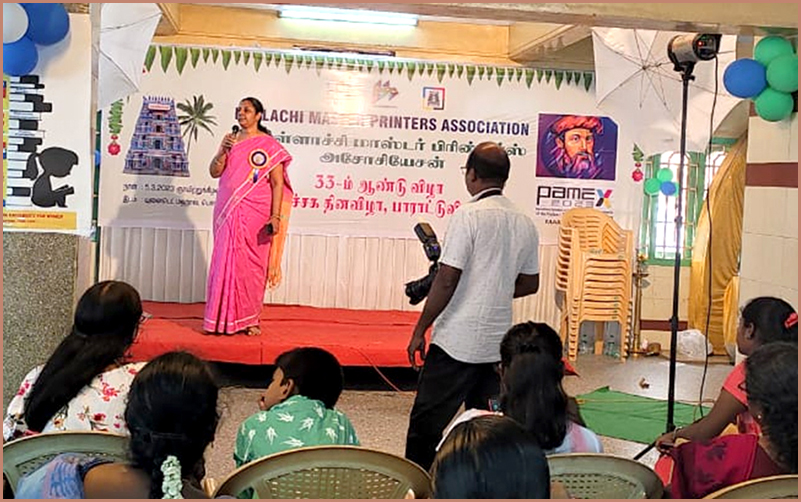 Attractive Scholarship and Job Opportunities in Printing Technology, Await Girl Students from Pollachi
22 March 2023: Kumarasamy, Director of Kumarasamy Press, Tirupur and presently, the Vice-President (South) of All India Federation of Master Printers Association (AIFMP) and a Senior Printer, made a special announcement on scholarship in Printing, during 33rd Annual Day of Pollachi Master Printers Association (PMPA) on 5th March 2023 at Pollachi.
At the event, Dr. Lakshmi Priya, HoD, Printing Technology at Avinashilingam University, emphasized the prevailing huge demand for high-end jobs in the Printing/Packaging industry which specifically requires graduates in Printing Technology. Today Printing is no more mere 'ink on paper' but is in fourth industrial era taking the shape PRINT 4.0 which includes electronics (Printed Electronics), Artificial Intelligence (smart graphic art), cloud computing (web-to-print), robotics (automatic quality control) and more.
During his Presidential address, Kumarasamy, on the spot, announced a scholarship of Rs.10,000/- per year for each of the four years of B. E. Printing Technology for any girl student from Pollachi who joins B. E. Printing technology at Avinashilingam University for Women, in Coimbatore. This was primarily meant to encourage girls to enter into this stream, and have a promising career on par with IT sector.
AIFMP is the apex body of printers in India with over 2,50,000 printers. Printing Industry is the 2nd largest industry in the world, surviving all four industrial eras. The industry has many segments: commercial, packaging, labels, signage, newsprint, magazines, e-publishing, stationery and large formats. Statistics indicate that all these segments are showing an increasing CAGR. Innovation, creativity and sustainability are the mantras of these segments. Already, in recent years, customization, personalization and aesthetics have become popular. Women Printing Graduates having good knowledge in production, quality control, graphic art, workflow management, cost estimation, and project planning & scheduling, are in great demand, with an average starting salary package of Rs. 4.0 Lakhs.
Avinashilingam University is the only women's institution offering Printing Technology for women in India. A student who has completed Higher Secondary with Physics and Chemistry (Maths not Mandatory) are eligible to apply for B.E Printing Technology. Diploma graduates in any discipline are eligible to apply for Lateral Entry in B. E. Printing Technology. The institute provides 100% placement with an average salary package of Rs.4.0Lakhs per annum.
Senthil, President, TMPF, former Vice President of AIFMP, and a Leading Printer in Pollachi will coordinate this initiative. This is an excellent opportunity for girl students from Pollachi who are creative, innovative and aspire a great career.
For more details contact: Senthil, President, TMPF – 99401 63309, 95249 96900