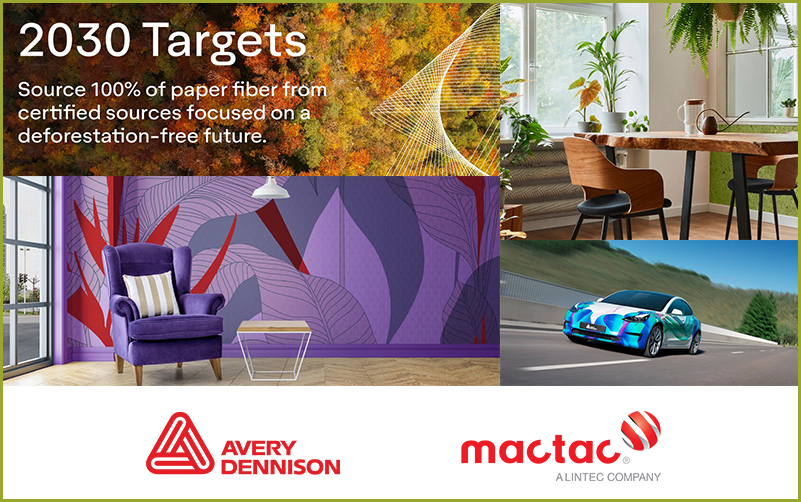 Avery Dennison and Mactac present new sustainable graphics solutions portfolio at FESPA 2022
08 June 2022: Avery Dennison Graphics Solutions EMENA is continuing its increased focus on sustainability with the launch of new Sustainable Graphics Solutions product portfolios for both the Avery Dennison and the Mactac brands. The Sustainable Graphics Solutions product portfolios give installers even easier and wider access to more sustainable graphics materials, with a new generation of products.
Avery Dennison's global focus on sustainability has evolved over many years, setting some of the boldest goals in the industry to advance environmental and social sustainability commitments. Alongside ambitious 2025 sustainability goals are recently introduced 2030 sustainability goals. These align with seven of the United Nations Sustainable Development Goals (SDGs), and they were developed based on careful analysis of what is most important for the business and stakeholders.
Elizabeth Park (director innovation and marketing excellence, Graphics EMENA) said that sustainability is now the starting point for many innovations: "When designing Avery Dennison or Mactac products, sourcing our raw materials, and setting up manufacturing, one of the first questions we ask as a corporation is simple: 'is it sustainable?' This is the foundation for how we meet our customer's needs within our commercial teams."
"Sustainability affects more than just the products we sell, of course – it requires social responsibility, diversity and inclusion both in our workplace and beyond our own 'four walls' to the wider external environment. This new sustainable portfolio demonstrates the benefits of education, transparency and collaboration with customers and other value chain partners – it's how we address industry-wide challenges and the innovations we have achieved represent an invaluable opportunity to position our business for lasting success."
Products in the portfolio meet one or more strictly defined sustainable criteria – part of the ongoing drive to make sure that our customers have more sustainable options. These latest innovations include Avery Dennison Organoid Natural Surfaces, made using renewable materials, along with the newly launched premium PVC-free digitally printable wrapping film, SP 1504 Easy Apply™. The Mactac portfolio offers PVC-free Squid® Window Textile films as well as paper based products within the WallWrap Series, such as WW Linen Paper, which are sourced from Forest Stewardship Council® (FSC®) certified suppliers. These products are a key part of the transition to Sustainable Graphics Solutions.
Li Wen (senior director and general manager, Graphics EMENA): "As a major global business, we share a responsibility to contribute to a more sustainable future, also benefiting from the resulting opportunities. For us, the words 'innovation' and 'sustainability' go hand in hand. It is our responsibility to make the most of our knowledge as leaders in science and innovation, so that we design and market our products in a more sustainable way for the future. Among other things, we are sourcing responsibly, reducing our operational footprint, and incorporating an EcoDesign methodology for our product developments."
For more information on our commitment to Sustainability, you can check the Avery Dennison website and Mactac website, and visit us at stand A50 during FESPA 2022.
Avery Dennison and Mactac will be at stand A50, Hall 3.2, Berlin Messe, from 31 May – 3 June 2022. You will also be able to hear Elizabeth Park giving a talk on the subject of Sustainability at 12:00pm on the 1st of June at the Press Conference Room at FESPA.