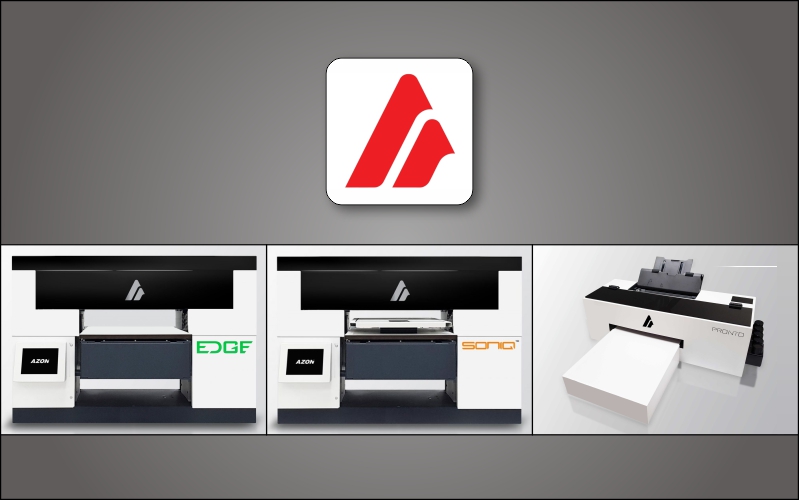 Azonprinter Launches Advanced Desktop Series: Digital Textile, UV LED & DTF Printing
25 April 2021: Azonprinter has added three high-performance desktop printers to its product portfolio: Edge, Soniq and Pronto. The print on almost anything industry is fast-moving, highly creative and leaves no room for an error. Printers in this market require an easy to use system that will deliver the speed, quality and innovation needed to keep the pace with this exciting industry.
# AZON EDGE (New Desktop UV LED Printer)
Flatbed UV LED Printer: Edge combines high productivity, extreme versatility, and superior print speed. The printer uses a low-cost UV LED "TurboJET" ink, which cures immediately after being exposed to UV light, enabling a faster turnaround without the need for a degassing period after printing. The ''TurboJET'' ink can be printed onto, not only PVC, but also uncoated substrates such as metal and wood. This system is the ideal solution for printing businesses introducing UV printing technology to their production line.
# AZON SONIQ (New Desktop DTG Printer)
DTG Printer: Soniq enables users to achieve high quality garment printing at an entry-level price. The printer adopts the recently developed, fast drying eco textile ink certificate with the "ECO PASSPORT by OEKO-TEX", available in both dual CMYK 4 color mode, as well as the 5 color mode CMYK+W. In addition to reducing graininess and allowing for fine details, even when printing images with high volumes of ink, the new ink has superior washability, which allows printers to create a multitude of applications.
# AZON PRONTO (New Generation of DTF)
The DTF ''all around'' printer- Pronto offers an affordable, high-quality solution to those looking into exploring the digital printing and expanding their production capacity. Pronto is ideal for a diverse range of applications in fashion, soft signage, home and interior, sportswear, as well as personalized items.
www.azonprinter.com