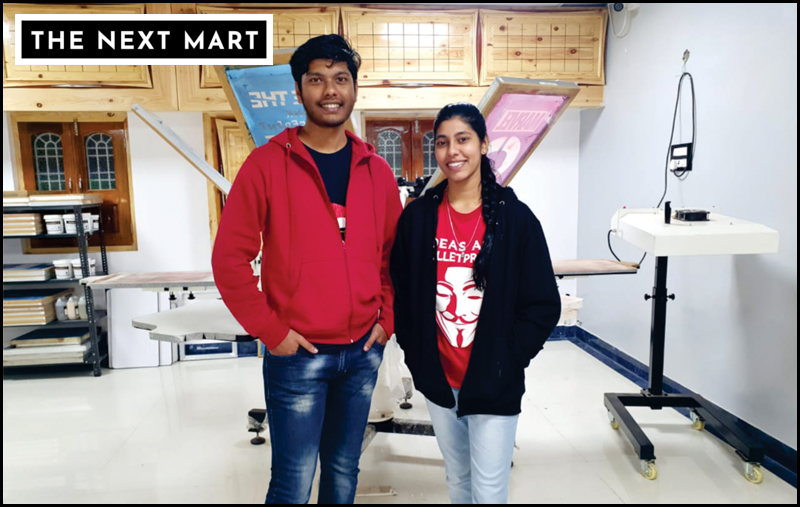 Binay Sahu: A Software Developer's tryst with Online T-shirt biz
12 January 2021: Binay Sahu, a BBA Graduate, the founder of start-up "Next Mart Pvt Ltd", Jeypore (Odisha state) made a smart move by venturing into a T-shirt and gift items business in 2017, after his experience in Web Development for Tee biz ventures. As a Software Developer, he started his first Software biz under the name Pixture Technologies Pvt. Ltd. in 2015.
Now, Next Mart undertakes Sublimation Printing, Multi-Colour Screen Printing, Heat transfer Vinyl (HTV) application on Cotton and PolyCotton T-Shirts. The company also undertakes 3D Mobile Cover and Mugs decoration. The company has multiple platform printing process such as sublimation printing, screen printing. The company has complete Screen Printing set up and Epson Sublimation printing facilities with all necessary finishing equipment, housed in a 2850 sq.ft factory. Their merchandise is sold under the brand "The Next Mart."
Binay used to develop websites for some T-shirt traders and he also promoted their brands on social media. "So, from this experience, I got to know that online T-shirt/fashion has high scope in future as now a day consumers want to buy their merchandise online and love to wear an attractive T-shirt."
During COVID-19 as there was no biz. Covid made a big impact on his business, as his high potential customers are the college students. "So, after Covid, we fully moved on to the online business and created our own brand "The Next Mart." We have now built our website to promote our merchandise at www.thenextmart.com."
He says that during COVID-19, even after lock downs are slowly lifted, there were numerous problems to restart the biz. "We are not based in a metro city. We are based in Jeypore in the state of Odisha, where to get the right raw material at right time is a big challenge. Locally there are lots of companies doing sublimation works. Logistically speaking, in metro cities, products are delivered in 2-4 days but in our city, we usually get our Stock it 6-7 days and because of that, the transportation charges went up which eroded our profit margin. However, because we have done a huge investment in our inventory, we could deliver finished products on time."
Binay says that there were many lessons to be learnt from ongoing pandemic? "We are upgrading our production unit and embark on some innovation in our marketing strategy. We are planning to create our offline retail chain and online customers' base," he concludes.
E Mail: info@binaysahu.com
Website: www.thenextmart.com