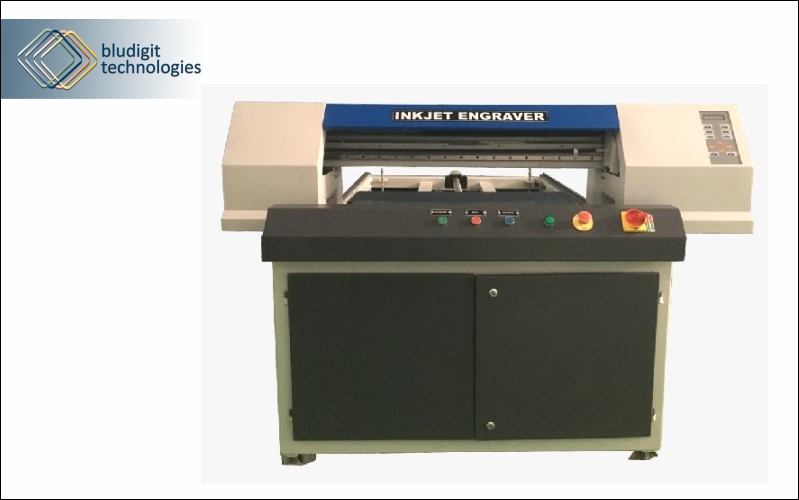 Bludigit Technologies Introduces Flatbed Inkjet Engravers
26 February 2022: Surat-based Bludigit Technologies' stall at the Screen Print India Delhi expo was one of the busiest stalls, as their team was showing a live demo of their newly introduced Flatbed Inkjet Engraver and Flatbed Bluray Engraver, what is also called as CTS (Computer to Screen) stencil making system.
The company was founded by Rajendra Patil and they Manufactuer High Quality CTS – Computer to Screen Stencil Making System. Having 20+ years of experience in the textile and graphic printing industry, he is on a mission to enable over 10,000 textile and graphic printers, design studios, digital printers to automize their production facilities with the state of the art technologies.
The company's product portfolio includes: Flatbed Inkjet Engraver, Rotary Inkjet Engraver, Flat and Rotary Screen Developing Machine, Color Separation Solution, Flatbed Bluray Engraver and Rotary Bluray Engraver. Bludigit Technologies also offers Consultancy Services, Installation and Training.
"CTS offers serious cost-reduction solutions in screen making and implements productivity enhancements, It also increases digital-imaging speeds and reduces investment costs. The systems offered by us maximize the efficiency in pre-press and production," says Rajendra Patil.
Flatbed Inkjet Engraver is fitted with DX 5 Piezo Electric head, 180 x 8 nozzles, and can take 6 to 10 minutes to cover Square Meter. On the other hand, Flatbed Bluray Engraver is a high-tech essence integration of modern semiconductor laser, auxiliary mechanical, computer-controlled system and it does not need a black or white film. It comes in 3 sizes, viz, 2500 x 1600 mm / 1600 x 2500 mm/ 1800 x 3500 mm with an engraving Resolution of 360dpi/720dpi/1440dpi and speed of 12 min/m2 (48lines).
www.bludigit.in