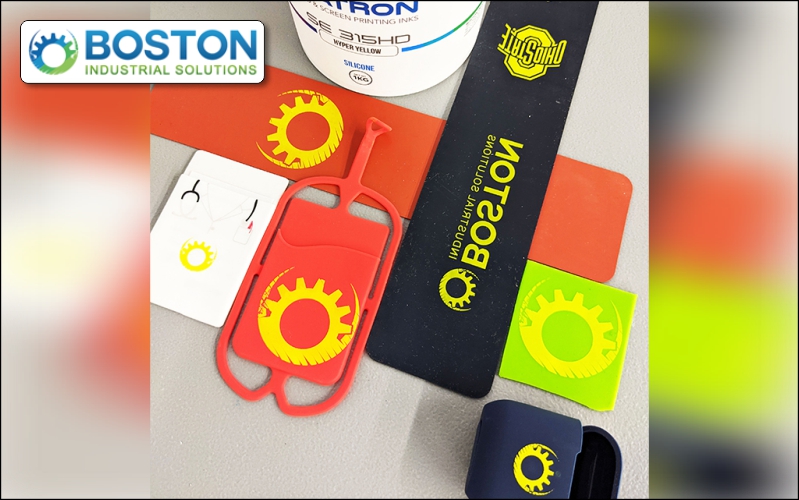 Boston Industrial Solutions Launches New Hyper Silicone Ink Color
13 April 2021: Boston Industrial Solutions introduces the Natron SE 315HD Hyper yellow. This new high-opacity color is ideal for pad printing and screen printing on many silicone applications. This high-opacity silicone ink solves the challenge associated with printing yellow color on dark substrates. SE 315HD Hyper Yellow enables decorators to achieve 100% opacity with "one hit" for pad printing. Screen printers alike can achieve 100% opacity using a 305 mesh with one pass.
Additionally, this new color is ideal for mixing to formulate new colors. The resulting colors are 100% opaque, solving yellow and green color formulations.
The new Natron SE 315HD Hyper Yellow features everything printers could wish for when it comes to opaque yellow: 100% outstanding opacity on any background. The SE 315HD is equipped with all the benefits of the Natron SE Silicone inks:
• Excellent ink flow
• Easy to print with
• High temperature and abrasion-resistant
• Compliance
• Universal use (for pad printing, screen printing, and spray applications)
Natron SE Silicone inks are ideal for pad printing or screen printing on any item made of silicone rubber. This pad printing, screen printing, and spraying ink line comes in 40 standard colors. The Natron SE Series is the leading silicone ink worldwide for printing all types of silicone applications across multiple industries. Today, the SE series is used by automotive, medical, industrial, promotional, textile, aerospace, contractor printers, glass and silicone optics industries.
www.bostonindustrialsolutions.com