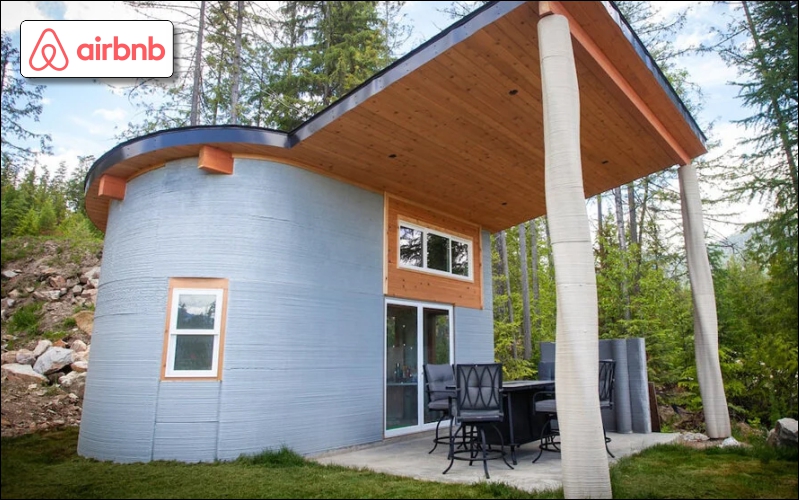 British Columbia based 3D Printed 'Fibonacci House' to be listed on Airbnb
17 July 2021: Built by Twente Additive Manufacturing, the holiday home is now available for rental in the scenic hills of British Columbia, Canada. Founded in 2018 by a technical team with a background in automation and wind energy, Twente AM is a manufacturer of concrete 3D printers for complex architectural applications. The company has subsidiaries in Canada, Germany and one in Dubai, while it operates R&D and production facilities around the world, including in British Columbia near the site of Fibonacci House.
Twente AM's current portfolio includes entry-level, mid-sized and larger-format 3D printers, with the latter comprising its Berlin-1 and and Leonardo-2 machines, priced at €415,000 and €920,000 respectively. With a build volume of 40m x 15m x 9m, the Leonardo-2 is the firm's heaviest hitter and its six-axis robot-mounted printer has previously been used to create everything from walls and pillars to footbridges.
Fibonacci House is built with mezzanine levels to maximize living space for tenants. In practise, the house itself took eleven days to print using a Twente AM system, with a total of twenty additive manufactured parts included in the build. Featuring glue-lam beams, handmade window frames and around 800,000 m3 of printed concrete, the firm says that its finished lodgings demonstrate the material and energy efficiency gains that can be unlocked through 3D printing.

Building on the lessons learned from Fibonacci House, the organization therefore intends to create a new low-cost Canadian housing community, constructed entirely using 3D printing. The houses are being built specifically for marginalized communities like single mothers, helping them to live in healthy and safe spaces that combine access to nature, with an affordability that's impossible to find in urban centers.
In terms of booking Fibonacci House and aiding World Housing's worthy project, rental is currently priced at a reasonable £94 per night, albeit with service fees and occupancy taxes added on top.