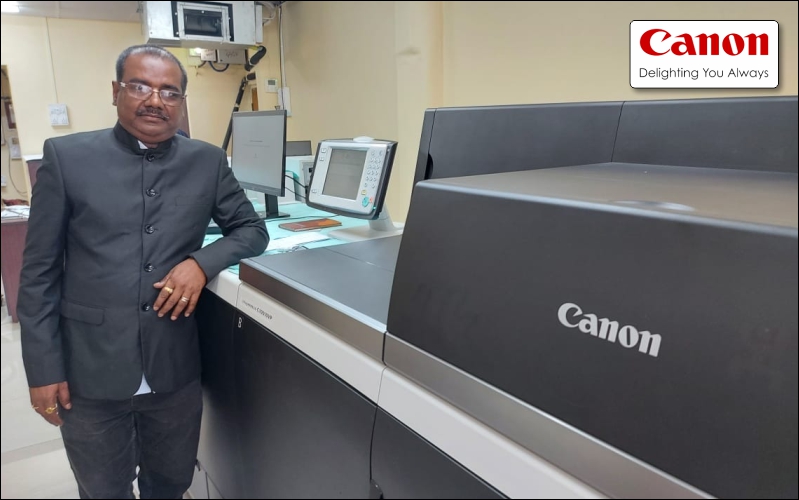 Canon India strengthens its foothold in West Bengal Installs First imagePRESS C10010VP
25 November 2021: Canon India, one of the key leaders in the imaging industry, has announced the first installation of one of its recently launched products imagePRESS C10010VP at T.S.P Digital, a pioneer print service provider in Kolkata.
Speaking about the changes in the industry and growing market demand for the machine, Puneet Datta, Senior Director, Canon India said, "The digital print industry is recovering quite fast in 2021 and we are noticing an increased trend of shift towards digital printing even with commercial printers. This is due to the trend of shorter run lengths becoming more prominent over the past one year. The launch of our flagship mid production colour, the imagePRESS C10010VP series has coincided well to offer the best-in-class technology and reliability to customers willing to invest / upgrade their digital print infrastructure."
Sharing his thoughts on the installation in Kolkata, he further added, "Kolkata has been a prominent and promising market for Canon and the digital print industry as well. Today, we are proud to strengthen our reach in Kolkata through, T.S.P Digital, a name recognized in the region for its exceptional services."
As the COVID-19 pandemic wears on, its impact is felt in every region, every industry, and indeed every aspect of life. Much like others, the printing sector has also witnessed a business slowdown. Consequently, T.S.P Digital was looking for a solution that provides them a competitive pricing edge without compromising on print quality. With the recent Canon imagePRESS C10010VP installation, T.S.P Digital will be able to cater to short run packaging jobs, execute a 'Direct-to-Customer' business model by increasing awareness about print media into organizational structure.
The new Canon imagePRESS C10010VP series helps print service providers turn customer challenges into profitable opportunities and outstanding services. imagePRESS C10010VP is setting a new standard of productivity by meeting the tightest deadlines with uninterrupted high-speed and high-quality print. It maintains high even with mixed media, owing to its Dual Fixing Unit, and achieves 24/7 production with the optional High-Capacity Stacker that enables unloading and reloading during a print run.