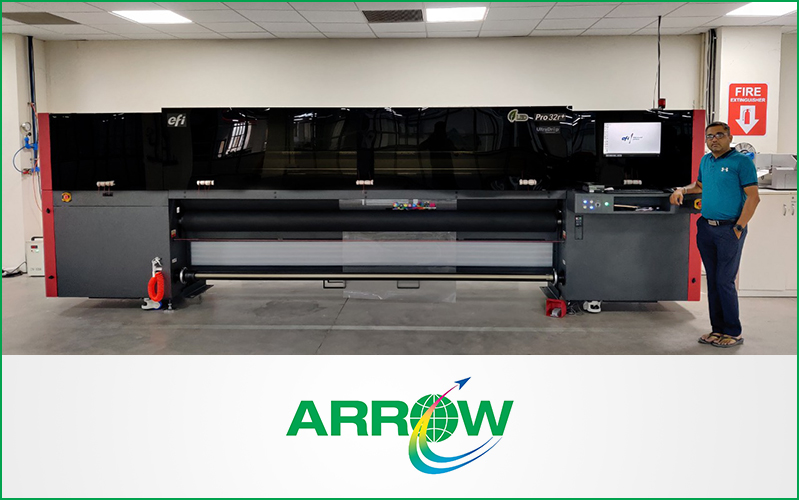 Caterpillar Signs, Ahmedabad Installs EFI Pro 32r+ UV LED Roll 2 Roll Printer
12 April 2022: Arrow Digital is proud to announce its latest installation at Caterpillar Signs. Mr. Nishant Shah, CEO at Caterpillar adds, Our attraction towards EFI Printers have made us add a series of them in our facility. We have a range of Printers from Arrow, as they have always given us the confidence to invest on many projects and segments over the years. All our Printers are humming day and night without major downtimes. Moreover the Speed and Quality you get from an EFI Printer is unmatched with any of the other technologies in the Market.
Sam Patel, CEO & Managing Director at Arrow Digital adds, Caterpillar is one of the leading companies in Signage and serves a wide spectrum of international clientele. Quality, on demand production and meeting tough deadlines is the Key. With EFI Printers they have always met these strict deadlines with ease. This new addition will bolster their Roll to Roll Jobs and will save a lot of time while printing great quality with the new grayscale printheads while saving energy and print costs against competition or even replacing Latex or eco solvent prints all while having GreenGuard certification.
Sam adds, This Cutting Edge All in One UV Roll to Roll UV LED Printer is a 3.2 meter wide, designed to be more competitive, profitable and highly economical. This production level UV LED Printer prints with four color plus optional white ink or optional clear ink in order to offer a great profit opportunity. EFI Pro 32r+ has a brilliantly designed cool cure LED technology to deliver productivity with less power consumption. With this you can enhance the profit opportunity while offering additional premium margin jobs.
The EFI Pro 32r+ is Greenguard Gold & RoHS Certified which makes it safe to use for Indoor Applications and also contributes to Green Technology. The EFI Pro 32r+ is backed by 3M MCS Warranty which opens up new opportunities and guaranteed quality and outdoor durability on fleet and vehicle graphics and many other applications.
EFI Pro 32r+ is an ideal solution for Printing Billboards, Building Wraps, POP, Exhibition Graphics, Fleet Graphics, Window Graphics and much more. It Produces Premium Applications such as 5 Layer Printing. These applications are unmatched to any technology in its class.
It ratchets up your capabilities with a blazing speed of 2756 ft2 / hr. The Ultradrop 7pl gives your print a High Definition Quality and makes it look flawless. The Pro 32r+ is backed up with a variety of Value-added options such as Automatic Backlit, Automatic Blockout, Y Slitters, Media Saving Wizard and many more. With all these features, the EFI Pro 32r+ is a complete Game Changer.
www.arrow-digital.com