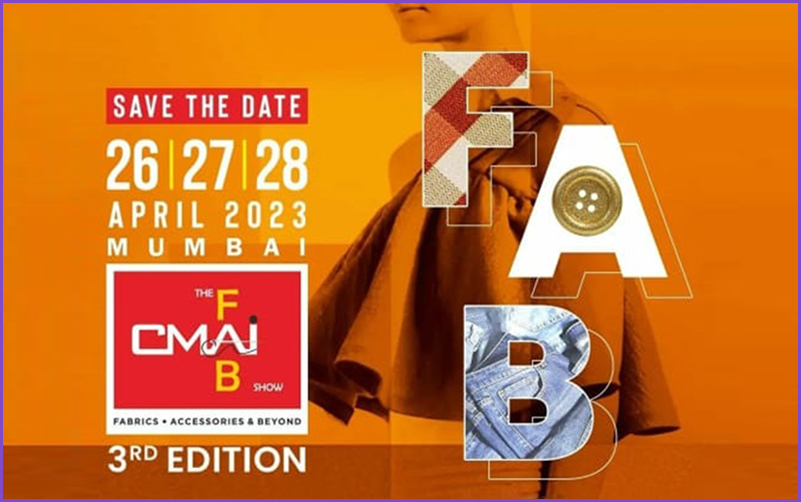 CMAI to hold 3rd Edition of CMAI Fab Show in Mumbai on April 26-28 2023
04 October 2022: The Clothing Manufacturers Association of India (CMAI) have announced the dates of 3rd Edition of CMAI Fab Show (Fabrics, Accessories & Beyond Sourcing Show). The show will be held in Mumbai on 26th, 27th & 28th April 2023. The show will have two major segments, viz, Fabric Souring and Accessories and Beyond Section. The Show facilitates apparel manufacturers to source all inputs required – from fabrics to accessories, services, machinery and beyond.
The CMAI had successfully organized their second edition of CMAI FAB show in April 2022 at Jio World Convention Centre, Mumbai. The CMAI had organised first of its kind Show bringing the entire Supply Chain under one roof. Besides India, there were buyers/visitors from 8 countries including UAE, New Zealand, Hong Kong, Ecuador, Turkey, etc. 2nd CMAI FAB SHOW was supported by Two Associations in the Fabric Supply Chain, viz, the FABEXA (Ahmedabad) and SGCCI (Surat). While the Fabric section had around 150 exhibitors, the Accessories segment had around 50 exhibitors. The accessories segment exhibitors included: garment tags and heat transfer labels suppliers, garment packaging, shopping bags, buttons, etc. Some of the leading garment accessories suppliers.
The FAB format is being designed to suit not only corporates – big and small – but also dealers, distributors and businesses of all sizes from the entire supply chain for apparel manufacturers," said Naveen Sainani, Jt. Hon. Gen Secretary and Chairman of CMAI FAB Show Sub Committee.
He is of the view that in garment/apparel, the element of 'sourcing' is as important as the 'sales' of end products. There are many fairs happening across India for fabric manufacturing, machinery, printing and finishing etc. The CMAI Fab show is the first Sourcing Fair for fabric and accessories. Generally, CMAI's National Garment Fairs are for sales of apparel and CMAI Fab show is for Sourcing of fabric and accessories platform for apparel manufacturers.
www.cmai.in