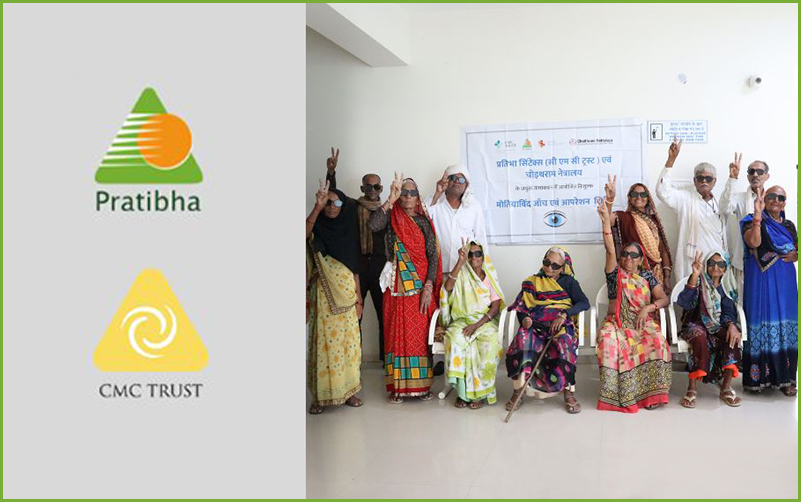 CMC Trust Facilitates 10,000 cataract operations – Pratibha Syntex's CSR initiative accomplished in last two years
15 May 2023: CMC Trust, a CSR initiative by Pratibha Syntex Ltd., is dedicated to improving the lives of marginalised people. As part of its mission, the trust has facilitated 10,000 cataract operations in the last two years. In April 2023, the trust continued to fulfill its mission by facilitating 405 cataract operations. The operations were carried out in 24 camps that were organized in three districts, namely Kharonge, Dhar and Ujjain. Committed to giving back to society, the trust believes in making a significant impact on the lives of people who need it most.
A sustainability-oriented, vertically-integrated manufacturer of knitted textile products since 1997, Pratibha aims at creating organic relationships across the value chain. Pratibha connects 25,000 farmers, 6500 employees and apparel brands from over 20 countries.
With almost 3 decades of experience under its belt, Pratibha produces over 60 million pieces of garments annually including inner wear, thermals and sleepwear, and thus cater to the taste of more than 20 international leading garment brands across the globe. Apart from manufacturing cotton, fibres, fabrics and apparel, Pratibha Syntex is also engaged in social initiatives to generate employment for rural women.
Driven by a vision to be the global leader in sustainable textile products and practices, the values and culture of Pratibha Syntex incorporate integrity, passion, innovation, team work and an ardent work place.
The apparel varieties that Pratibha Syntex offers include Everyday Essentials – clothing for all seasons, Activewear – blending performance with comfort and style and Trendsetting Fashion – refreshing collections for every season. Delivering more than quality, Pratibha Syntex focuses on transparency so you discover the roots of every garment, agility across time, quantities and compositions along with design assist for unique and inspired fashion.