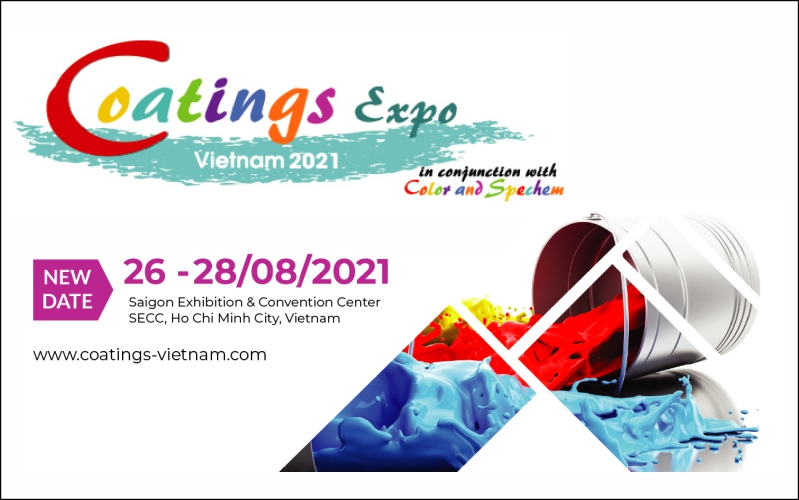 Coatings Vietnam Expo '21 to be held in Aug '21 at HCMC, Vietnam
22 April 2021: 7th International Exhibition on Coatings & Printing Ink Industry in Vietnam – Coatings Expo Vietnam will be held from 26 – 28 August 2021 at Saigon Exhibition & Convention Center (SECC), Ho Chi Minh City (HCMC), Vietnam.
Coatings Vietnam Expo is one of the most attractive annual international events in Vietnam. This is a chance to all the coating enterprises for not only meeting and exchange value experience but also finding opportunities to co-operate with a lot of both local and overseas companies.
Coatings Vietnam Expo 2019 was held successfully with 100+ exhibitors from 23 countries and attracted more than 2560 visitors globally. With success of the 6th edition 2019 and the strong support from Ministry of Industry & Trade (MOIT) and Vietnam Paint & Printing Ink Association (VPIA), the 7th edition will be continued in Ho Chi Minh City with over 150 exhibitors and 3,500 trade visitors coming from all over the world.
Coatings Vietnam Expo 2021 will cover every field of Coatings & Printing Ink Industry, Paint Products, Printing Ink, Chemicals & Raw Material, Manufacturing Facility, Analysis equipment, Environment/Water treatment, Technology, Services.
www.coatings-vietnam.com