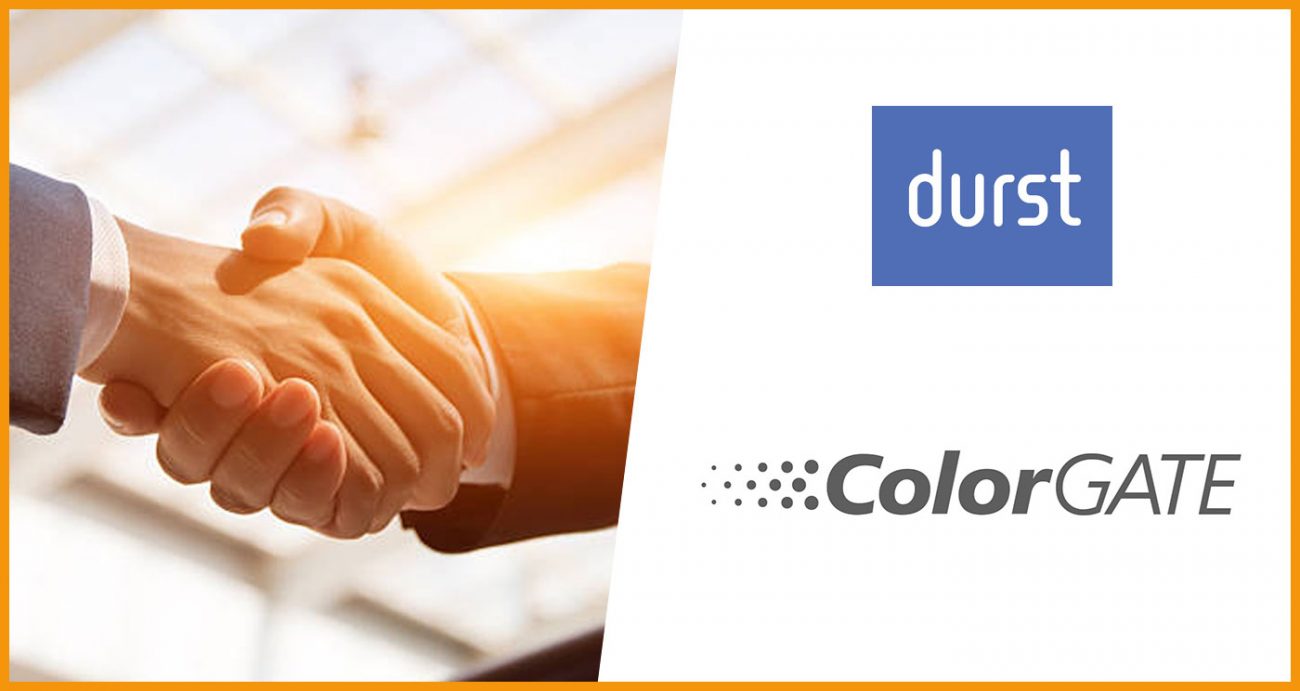 ColorGATE and Durst Phototechnik AG Announce Exclusive Distribution Partnership
16 July 2018 : ColorGATE and Durst Phototechnik AG, one of the world's leading manufacturers of future-oriented digital production technologies, are pleased to announce their exclusive distribution partnership for the ceramic industry. A perfect symbiosis of software and hardware for further development, sales and service of the first complete solution for digital tile decoration. Manufacturers of ceramic tiles can now not only benefit from the proven quality of the Durst Gamma series, but thanks to the integration of ColorGATE's Ceramic Productionserver (CPS) also from an optimized workflow, accurate color rendering and highly efficient and color-consistent reproduction of existing wall or floor tile designs. The close cooperation with Durst Phototechnik AG ensures not only the continuous further development of the CPS, but also that it meets practical requirements.
ColorGATE and Durst: A strong partnership
The first jointly achieved results of the cooperation, which has now lasted for almost two years, can be found in version 10.30 recently released by ColorGATE. Numerous functions and work processes have been optimized and specifically developed for the needs and conditions in ceramic tile production. Thus, the CPS meets the specific requirements in tile decoration even better and also allows an easy and efficient use of the professional color management tools.
Combination of automated workflows and modern technology
By providing drivers for all devices of the Durst Gamma series for direct communication between CPS and printer, all relevant settings such as resolution or line speed for each job can be automatically transmitted with the print job. This not only provides the customer with outstanding print quality, but also an optimized and secure workflow experience. Of course, the Universal Ceramic Inkjet driver can also be used with all other Non-Durst ceramic digital printers available on the market. Durst is responsible for the technical support and training, ColorGATE will concentrate on 2nd-level support.
"After we presented our range of solutions for color consistency in digital tile decoration, consisting of the RSC colour measurement solution and the Ceramic Productionserver, at the last Tecnargilla, the technical discussion with the specialists of Durst Phototechnik AG as pioneer and technology leader led to an enormous further development of this complete solution. With Durst, we are pleased to announce an exclusive distribution partner that gives customers and interested parties worldwide access to this innovative range of solutions," says Thomas Kirschner, founder and CEO of ColorGATE.
Norbert von Aufschnaiter, Head of the Ceramics Printing Division at Durst, adds:
ColorGATE's range of solutions with the innovative and patented RSC color measuring system is the first "True Ceramics" color management solution developed and optimized especially for ceramic colors and process conditions in tile production. For the first time, this enables fast, simple and precise color matching in tile production with just a few steps, rapid production repetition with greatly reduced test runs and thus ensures minimum downtimes and an efficient workflow for various printers (Durst and Non-Durst printers) and production facilities.