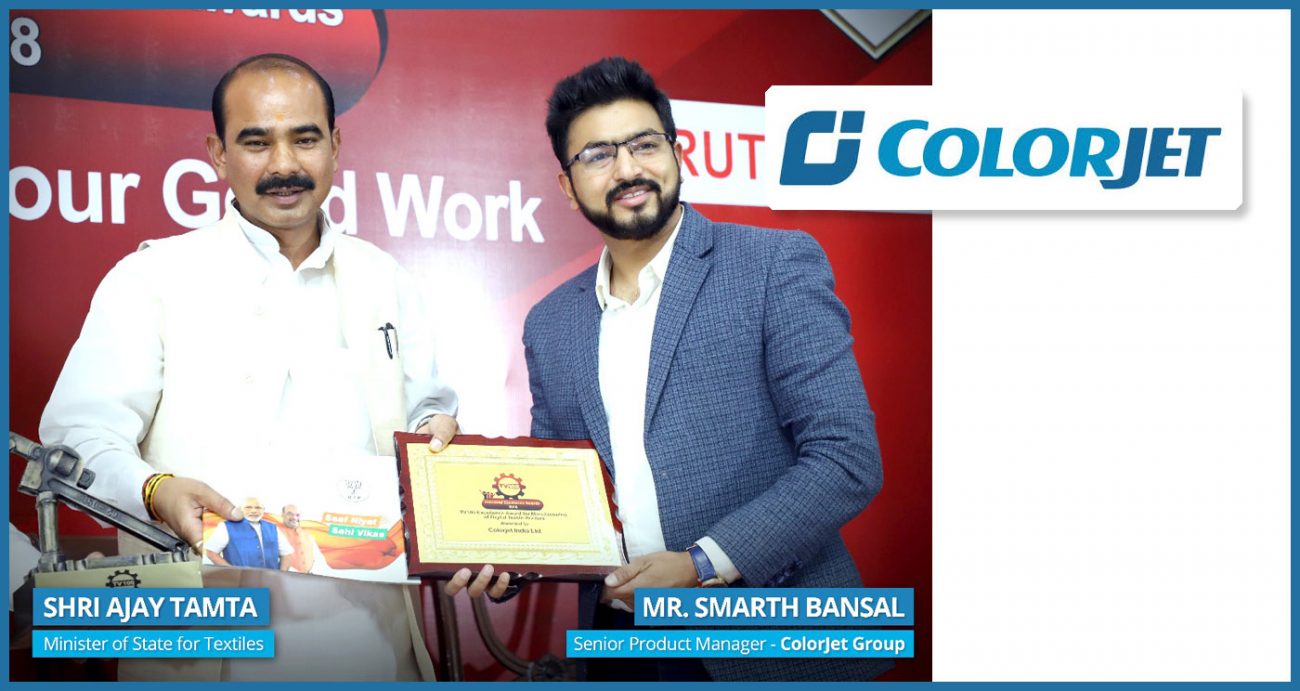 Colorjet receives 'TV100 Industrial Excellence Award'
ColorJet India Ltd, India's only manufacturer and biggest Indian marketer of digital fabric printers, recently received the 'TV100 Industrial Excellence Award 2018' in the 'Largest Manufacturer of Digital Textile Printers in India' category.
It was received by Smarth Bansal, Sr. Product Manager at ColorJet India from Ajay Tamta, Minister of State (Textiles) at the third edition of TV100 Industrial Excellence Awards 2018, organised on July 2, 2018 in New Delhi.
ColorJet India had earlier bagged 'India's Largest Manufacturer for Wide Format Digital Printer's Award at the 6th Imaging Solution Awards Night in 2017.
More recently, the latest IDC Q1 2017 Super Wide Report quoted that ColorJet digital printing products enjoy 40% market share in India. ColorJet offers digital printers for textile as well as sign & signage fabric digital printing needs. Its vast digital printer range caters to the most basic digital printing to mass production needs, offering printers with width of up to 3.2 metres.
Additionally, ColorJet's printer uses environment-friendly aqueous based inks that are essential in today's time. TV100 Industrial Excellence Award encourages the organizations on social projects or programmes and increase the recognition of Corporate Social Responsibility (CSR) principles in their operations. This prestigious awards provides inspirational benchmark to the CSR activities done by the industrial and service sectors. The award was presented to companies / units demonstrating highest level of commitment to CSR.