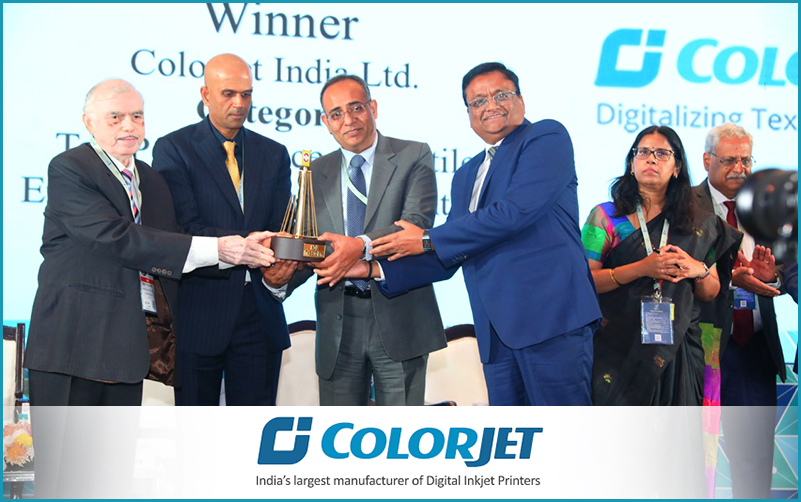 Colorjet Recognised as 'Top Performer' in Textile Engineering Industry
13 December 2022: A highly accomplished ITME jury declared ColorJet India Ltd. as the winner in textile engineering in the service of the textile industry.
Rohit Kansal (Addl. Secretary, Ministry of Textiles, GOI), Prajakta Verma (Jt.Secretary, Ministry of Textiles, GOI), P. Sathasivam, Retd. Chief Justice of India and S. Hari Shankar, Chairman, India ITME Society handed over the award to M. S. Dadu, Chairman of ColorJet Group on December 10 during the ongoing ITME 2022, being held at India Exposition Mart, Greater Noida.
M. S. Dadu said "Delighted to receive the award in recognition of the valuable contributions that the ColorJet Group India has made in Textile Engineering Industry. With this award the ColorJet Group reinforces its technological Innovation Strength of ColorJet's R&D department."
India ITME Society Initiated the applications in July 2022, searching for the nation's hidden gems. Evaluated by a stellar jury that includes the prestigious names of Uday Gill, Updeep Singh, R. Anand, Gurudas V. Aras, Sanjiv Lathia, Dr. Manisha Mathur, Manohar Samuel, Ketan Sanghvi and Avinash Mayekar.
Finally, ITME Society honoured the stars that shone the brightest with an award at the 2nd edition of the India ITME Awards on December 10.