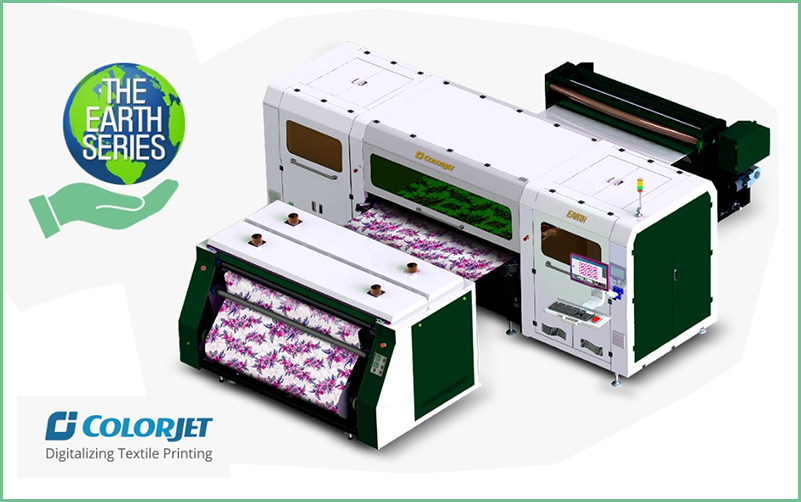 Colorjet To Launch Earth Series – Sustainable Pigment Printing Solution at India ITME 2022
26 November 2022: Colorjet Group is gearing up to launch their Earth Series, an advanced sustainable printing solution in Digital textile printing segment, at India ITME 2022 show to be held on 08 – 13 December 2022 at India Expo Center & Mart (Hall No. 5, Booth No. H5F3G4). The Earth Series, an advanced sustainable printing solution is a new process which does not require additional equipment for pre and post treatment. The elimination of pre and post treatment leads to big savings of water and energy, thus providing a competitive edge in sustainable direct-to-fabric printing process.
The Earth series comes with 3 models – 32, 16 and 8 inkjet powered by Konica Minolta print heads, with the combination of ColorJet' s 3 new technology – Kiloton, Purge Plus, and Osci Plus. Purge Plus™ Technology ensures removal of air bubbles from print heads and helps in saving almost 3-4% of total ink used in printing process. Kiloton has increased the print head life to a considerable extent of Up to 3 years. Osci plus precise rollers for efficient tension control and smooth feeding of the fabric irrespective of any fabric helps to accommodate almost every kind of fabric for direct printing.
ColorJet's specialized Pigment Ink with binder, offers greener solution by way of eliminating process in digital textile printing. Polymerisation at 160-degree after printing provides excellent color fastness and print quality with exceptional production capacity of 2500 linear meter/day, as stated by the company.
Inspired by the success of pigment solutions, operating successfully across the globe including India, Germany, Brazil, Vietnam, Pakistan and at other leading textile clusters, ColorJet is now all set to lead the sustainable Pigment printing category with its new futuristic Earth series.
The Colorjet Earth Series will provide sustainable print solution in textiles to Fashion apparels, kids wear, home furnishing and many other segments.
www.colorjetgroup.com