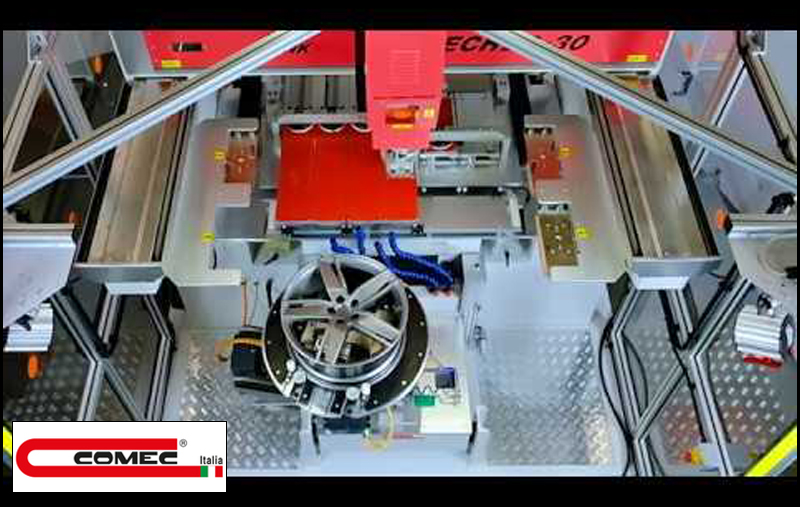 Comec Italia launches an innovative pad printing machine for printing on car rims
13 January 2021: To meet the demands of the automotive sector, where customization is of great importance, Comec Italia, Italy, has developed an innovative pad printing machine for printing on car rims, XE TECH 20-30.
XE TECH 20-30 is a fully automated and computerized system controlled by a touch screen PC, capable of self-learning the pick-up and printing points. This feature, combined with the possibility of changing the pad and cliché during the printing process, allows you to print different graphics on different areas of the rim, at the same time, with the same machine, picking up the piece only once.
The automotive industry is one of the fastest growing areas in recent years; the absolute personalization is increasingly an added value for each vehicle and its owner. Comec Italia has developed a series of machines, both for printing of mechanical parts, such as brake pads, and from external parts, such as logos, levers, wheel rims, and continues to work at the automotive industry.
Since 1970 Comec Italia designs and manufactures pad printing machines on an industrial scale. The production includes not only standard machines for printing from 1 to 8 colors, but also special machines tailored to customer needs. Comec offers training to customers and onsite installation and testing. It also provides not only machines but also auxiliary devices such as ovens, photoexposures, flamers and consumables: inks, pads, photopolymer and steel plates, etc. In every country, Comec Italia has not only an extensive network of prepared agents on national territory, but also subsidiaries and distributors in more than 25 countries.
The machine can memorize hundreds of printing programs in the different phases, it is therefore very versatile and adapts to the work to be carried out each time; brushless motors for the movement of the axes, motorized workpiece holders, cleaning pads, directional hot air complete the equipment of this revolutionary multifunction printing center, which can be further customized according to customer needs.
www.comec-italia.com