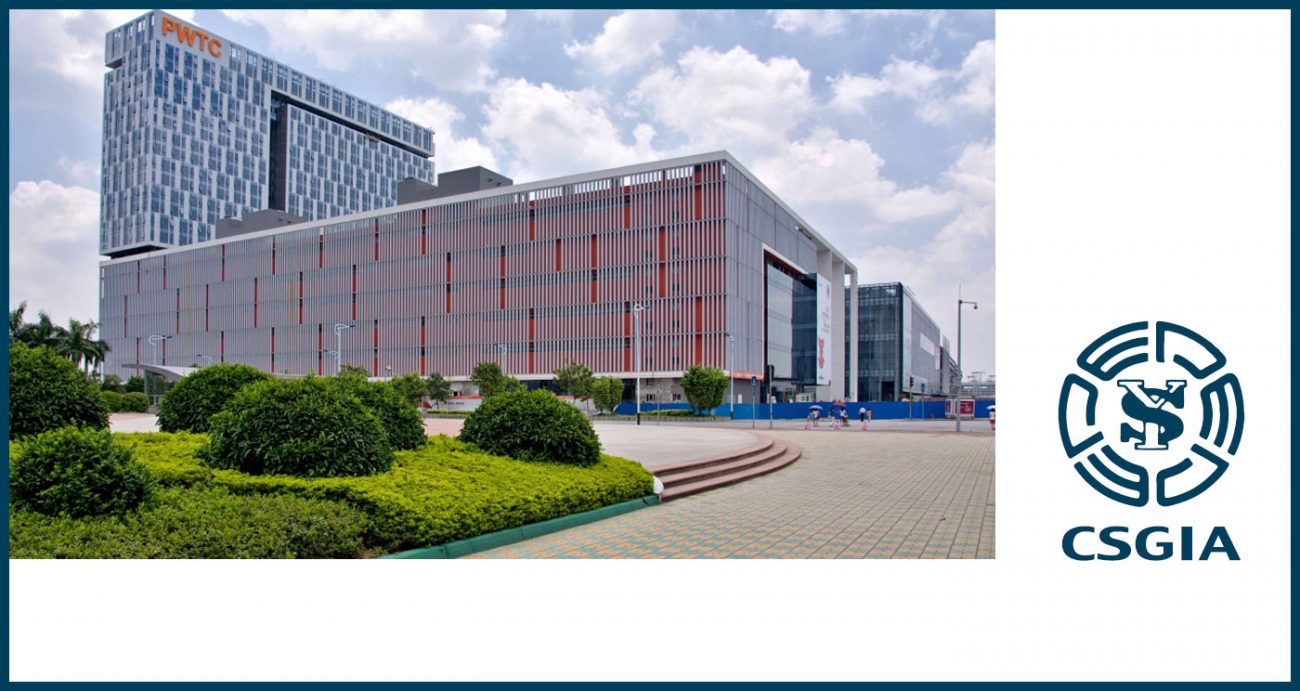 CSGIA 2018 to be a mammoth show : 800+ exhibitors from 100 countries
China Screen Printing & Graphic Imaging Association (CSGIA) is bracing itself to organise a mammoth show, 'CSGIA 2018' which will have more than 800 exhibitors from 100 countries, occupying about 50,000 sq.m of floor space and an expected 30,000+ visitors from all over the world !
The CSGIA 2018, considered as Asia's most influential exhibition specialized in screen printing, digital printing and industrial inkjet printing, will be held on November 21-23, 2018 at Pazhou Poly World Trade Center in Guangzhou, China. The expo is expected to add new energy, new momentum, bringing together the diverse cultures of Asia. CSGIA 2018 will lead the new era of textile printing, industrial printing, packaging, commercial printing and sign printing.
For the benefit of the visitors, the CSGIA 18 show will be grouped as follows:
Hall No.1: Digital printing and industrial inkjet printing
Hall No.2: Screen printing and textile printing
Hall No.3: Industrial inkjet printing, digital printing and screen printing
Hall No.4: Textile printing, screen printing and customization
A fashion show, SGIA workshops, technical seminars, Screen Printing Digital Printing Technology Summit, Screen Printing & Digital Printing Creative Displays – are some of the new added features of the CSGIA'18 show.
Fashion Show: The fashion show selects high-level garments and accessories varied in material, design and techniques. The glamorous models wearing variable and appealing printed garments will demonstrate the latest trends and application of screen printing and digital printing technique.
SGIA Workshop: The world renowned expert will be invited to deliver practical hands-on printing training in the education area. Focusing on screen, digital and textile printing, the workshop will not only allow the visitors being trained to learn about the technology, but also give the opportunity to perform the task simultaneously.
Technical Seminars: The free educational seminars within the show will feature a line-up of influential speakers from China and around the world. Visiting the conference will be a good help for you to grow your business.
Screen Printing Digital Printing Technology Summit: Inspirational speakers from across the industry and the globe will offer top tips on how to explore business opportunities, unveil trends and forecasts for the future, and provide the knowledge that you need to improve your performance.
Screen Printing & Digital Printing Creative Display gallery: Numerous special and creative products from print service providers will be gathered and displayed during the CSGIA expo. It will demonstrate the leading-edge printing technology and creative ideas in screen and digital printing sectors. The exceptional work, designs and ideas will be definitely attract a broader audience and inspire them to try out new printing techniques and acquire the exciting opportunities.
CSGIA exhibition as a focused screen, textile and digital printing exhibition is considered the largest in Asia with high recognition. Organized by CSGIA, the show has nearly 30 years history and has become one of the famous global brands in the printing industry. The CSGIA will host educational conferences, seminars, prints competition during the show, providing exhibitors and buyers with networking, cooperation and business opportunities. The exhibition is held alternately in Guangzhou and Shanghai and has been successfully staged annually since 1983.
www.en.csgiashow.org