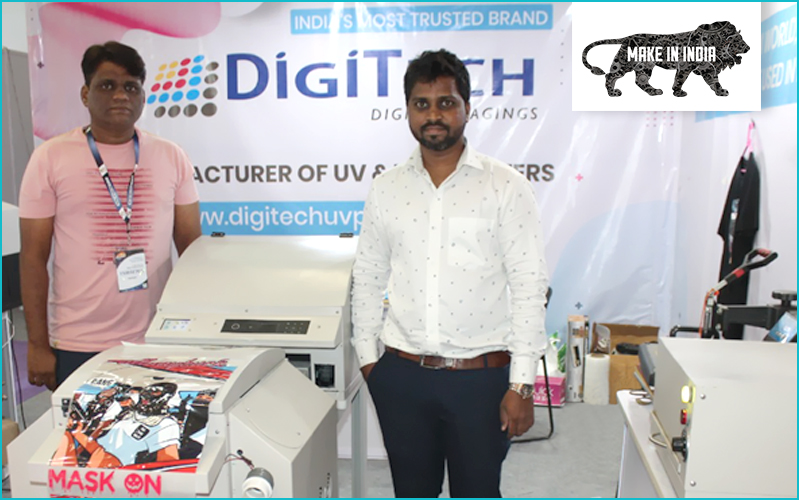 DigiTech Launches 'Made in India' R2R Rougher Express DTF Aided by AI
12 April 2022: If one visits any garment finishing and printing exhibition, one would easily notice that most of the DTF (direct to film) printers and the related equipment and consumables on display are imported from China. However, following the successful launch of their first Made in India 12 inch 'DTF' printer about a year ago, Nashik based DIGITECH has now launched their new A3 inch Roll to Roll DTF system. New DTF was unveiled at the ImageToday /SignToday expo in Mumbai recently. What else, after their success in Roll to Roll DTF, the digital imaging technology company is planning to launch 24 inch DTF within 3-4 months.
The new Roll to Roll DTF system, called Rougher Express, comprises a high-speed DTF printer, AI (artificial intelligence) aided automatic white ink circulation system, powder applicator with AI process controlled system for automatic recirculation, and an IR curing system. So, once the operator set the printing programme, he can get himself busy with other works even till the printer finishes printing 100 M film. The automatic Roll to Roll DTF printer is offered as a package (printer, powder unit and curing system). The package also includes 100 M PET film, CMYK and White ink (250 ml. each) and white powder.
On the other hand, launched during the pandemic, DigiTeck's King DTF. The package offered includes a printer, curing machine, 100 M the film, 1 Kg. Powder, CMYKW ink. Customers have to buy powder applicator and curing machine separately.
King DTF has received 'red' carpet welcome in the USA, Germany, Ireland and another 5 countries, with over two dozen DTF printers were already being exported. Although the company's management wished to run the sales and marketing on their own, it has appointed a dealer in the USA after his repeated requests.
"We launched the King DTF about a year ago and found tremendous success through online marketing. We have exported this DTF to about 8 countries and sold nearly 100 machines in India. There is something really unique with our DTF, else the customers in the developed markets such as the USA, Germany would not have bought our DTF," says Rizwan Ansari, one of the Directors of the company. "And our DTF aided by AI is going to rock in the market and we are determined to offer quality product and earn a name in the market and then grow as a leading brand."
Behind their DTF Innovation are three brothers, viz, Rizwan Ansari, Sufiyan Ansari and Salman Ansari. They are professionals in digital and IT and work in symphony to design and manufacture new products. Their team make all the necessary circuits and components – Made in India, and without having to source a single part from the so-called China market. And the company is sourcing inks, PET film and powder from Europe which are tried and tested as per their DTF system.
Explaining the salient features of their DTF, Rizwan Ansari says "Our Roll to Roll DTF comes with a Cruiser Powder Applicator with AI (artificial intelligence) controlled technology. Everything is controlled automatically so just sit back and relax. Our patented powder circulation technology circulates powder from base to top of the sheet. Moreover, the DTF is also fitted with a Fume The extractor extracts the harmful fumes generated in the curing process. After printing is complete, one has to just cut the sheet and press the end-eject. It will automatically cure the roll till the end. There is no need for manual rolling of the film till the end. The dryer comes with an IR Lamp which saves power and gets heated instantly. The DTF has an Auto curing speed control to adjust the speed of curing automatically as per the desired printing speed. The final melted sheets are cooled down and then gets auto rolled in."
Sufiyan Ansari concludes by insisting that their DTF customers should use the ink, powder and PET film, sourced from Europe and tried and tested for their DTF environment. These consumables are offered at a very competitive price, prevailing in the market.
www.digitechuvprinter.com