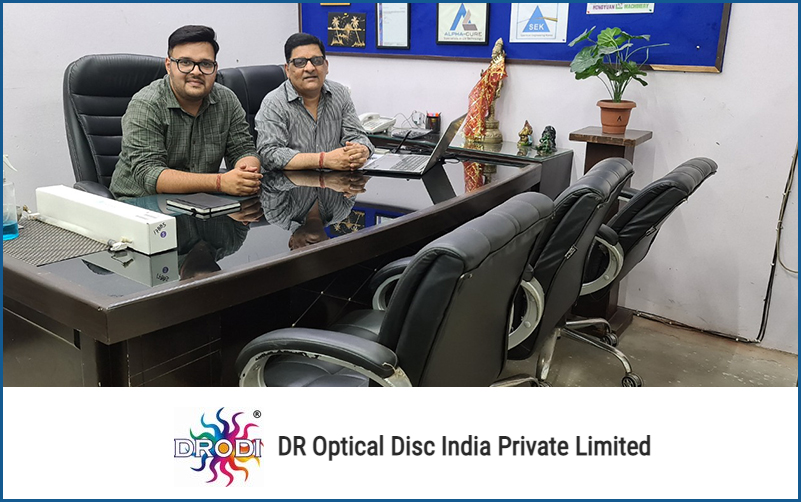 DR Optical Disc India – NextGen Dhruva KS Rathore Joins with a Vision to Take the Company Forward
24 June 2022: DR Optical Disc India (DRODI) (P) Ltd. has been serving the printing industry with excellence for over 20 years now with various print equipment and spares in the screen printing and UV Industry. Their director Devesh KS Rathore has personal experience in UV and printing technology for over 25 years.
The company has extended its print equipment and services to various platforms like undertaking complete t-shirt printing projects, UV screen printing, UV exposing machines, UV curing machines, cosmetic pharma tube manufacturing and printing equipment, die cutting machines and window patching machines.
DRODI is proud to announce that the next generation, Dhruva KS Rathore has joined as the marketing head for the company for Asia region and beyond. Being a qualified engineer himself, he also holds a Masters degree in Business Administration in Marketing. He also has a rich marketing experience with big FMCG brands across India. Till now, he had been working with his father in his spare time, for more than 7 years.
Dhruva KS Rathore has a vision to collaborate company's UV lamp business with all the major brands in offset and screen printing, cosmetic tubes, pharmaceuticals, glass bottle decoration, wooden laminates, flexo and label printing, etc. Being the renowned dealers of Alphacure, UK, he has also signed dealership contract with another reputed brand in UV Lamps SEK-Korea. Having vast personal experience in garment printing, he will also continue promoting that. His vision also includes expanding the company's future activities towards developing essential spares and consumables for flexo UV systems. His roadmap is to multiply the company's revenue to three folds by next two years.
Establish in year 2004, DRODI is an ISO 9001:2008 certified manufacturer, exporter, supplier, distributor, wholesaler, retailer and importer of printing machines. Some products such as automatic screen printing machines, PCB screen printing machine and Curved screen printing machine for bottles and buckets have proved its worth in the market.
They are exporting in South East Asia and importing from UK, USA, Canada, Japan, Taiwan, China and many other locations. In addition to this, DRODI also provides commendable installation and repairing services to clients.
www.dr-odi.in