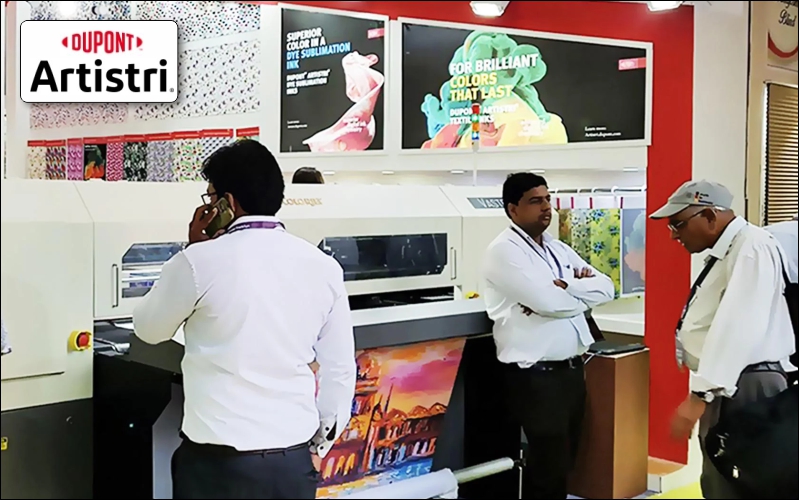 DuPont Artistri Highlights Latest Digital Printing Inks at ITMA ASIA + CITME
22 June 2021: DuPont Artistri Digital Inks was at display as its newest offerings for the growing digital textile and commercial printing market in China at the ITMA ASIA + CITME exhibition, June 12-16 in Shanghai, China.
At the show, DuPont showcased its portfolio of textile inks at the expo, featuring DuPont Artistri P2700 pigment ink, a full gamut roll-to-roll printing ink with excellent wet crock performance. The new Artistri P2700 pigment series is formulated for mid- viscosity printheads, offering best-in-class color with deep, rich black and outstanding color saturation. It delivers the quality and image sharpness needed for textile printers in home, furnishings and apparel applications.
For direct-to-garment (DTG) printing market, DuPont offered the Artistri Brite pigment DTG inks featuring white inks with great opacity and available for a wide variety of printheads, from low to high viscosity.
"As the global textile and printing market went through tough challenges over the past year, the need for sustainability has accelerated and there is more willingness to opt for digital printing solutions. In the challenging business environment, our business teams in each region have been actively supporting customers to fulfill demand and resolve queries either in-person or remotely through virtual technologies," said Lucy Chen, Global Business Leader, DuPont Advanced Imaging Technologies.
DuPont will also featured its packaging commercial ink offerings which have applications such as direct mail, magazines and also for corrugated and label printing for packaging printers and converters.