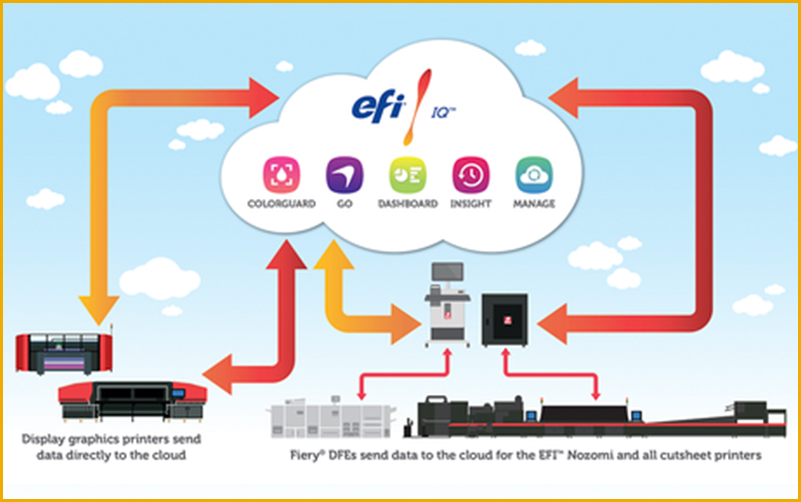 EFI IQ Now Available for Sign and Display Graphics Printers
19 May 2022: Electronics For Imaging, Inc. has announced the availability of its EFI IQ™ suite of cloud and mobile applications with supported EFI VUTEk®, Wide Format and Nozomi inkjet printers. With this advanced cloud service, EFI™ printer users can monitor production and printer utilization, including exact device-level consumable tracking data, to reduce downtime, reduce costs and maximize the value of their EFI printer investments. New EFI wide- and superwide-format UV LED printers will include a one-year subscription to EFI IQ. EFI inkjet printer users can also purchase IQ subscriptions for other supported printers.
Newly available cloud service for superwide-format production is making its debut at the May 31-June 03 FESPA Global Print Expo in Berlin.
According to an early user of the cloud service's new inkjet offering – Dave Brewer, chief technology officer of Foothill Ranch, California-based Image Options – "EFI IQ is a user-friendly tool that gives me better business intelligence to make better decisions."
By monitoring their printer fleets in real time, EFI IQ users can reduce consumable spend, save on labor costs, improve margins and more.
"Print business leaders often want and benefit from having more-complete knowledge of their plant operations," said John Henze, vice president of sales and marketing, EFI Fiery. "With EFI IQ, they can have their finger on the pulse of the business. This advanced cloud offering gives print business leaders a detailed, accurate understanding of production operations, which is key to knowing how a company can best meet its customers' needs at any given point in time."
The IQ suite is the only management solution to have a direct connection to EFI printer data, and it gives business leaders powerful tools to handle their day-to-day production and administrative challenges. Plus, the suite's EFI Go component helps to ensure that managers receive urgent updates wherever they are. At early user site Studio DAR in Bielsko-BiaBa, Poland, notifications from the mobile application allow managers and operators to keep the company's EFI Pro 32r+ roll-to-roll printer running as much as possible.
www.efi.com