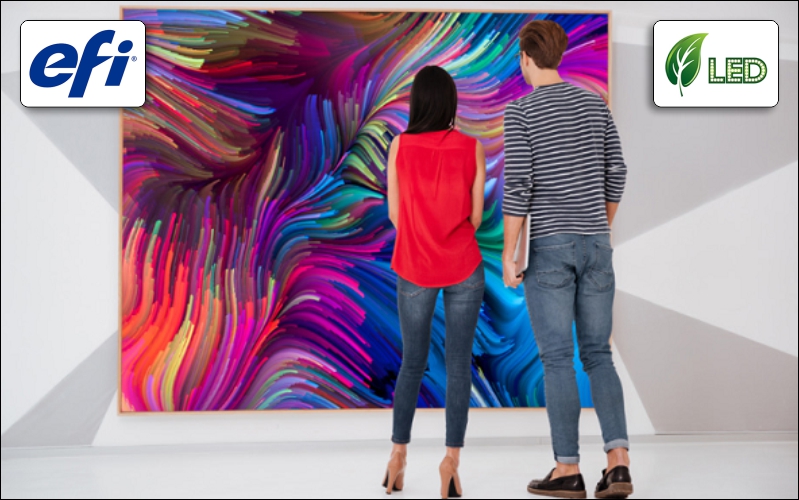 EFI ProGraphics UV LED XA Ink Available for EFI Wide Format Flatbed and Hybrid Printers
04 October 2021: EFI™ ProGraphics™ XA high-adhesion ink – a versatile UV LED display graphics inkjet ink from Electronics For Imaging, Inc. suitable for a wide range of rigid and flexible media is now available for EFI Wide Format flatbed and hybrid roll/flatbed printers. ProGraphics XA ink delivers superior results on corrugated plastics and other substrates with adhesion challenges.
EFI customer Kurt Kahmnke, owner of Fenton, Missouri-based Payler Signs & Graphics, has gained greater adhesion and durability on rigid substrate prints he produces on his company's new EFI Pro 30h hybrid wide-format printer. The ink gives Payler Signs superior results compared to the UV inks the company uses on a flatbed inkjet printer.
"We've tested prints produced with the ProGraphics XA ink in our EFI Pro 30h printer in a variety of modes on Coroplast®, acrylic, aluminum composites and other challenging materials by spraying them with water, leaving them outside in the heat, and stacking them ink side to ink side," said Kahmnke. "We are very pleased with the ink's adhesion, quality, and performance and are confident that we made the right choice."
The ProGraphics XA ink does not chip during cutting when used on standard acrylic, corrugated plastic or other fluted polypropylene media. Plus, ProGraphics XA ink is flexible enough for 180-degree heat forming applications. Bringing this advanced ink to the EFI Pro 24f, Pro 30f, Pro 16h and Pro 30h wide-format printers gives sign and display graphics operations more capabilities in the range of applications they offer to customers.
When purchasing an EFI Wide Format printer, customers can choose the ProGraphics Series UV LED ink set that best meets their application needs.
www.efi.com