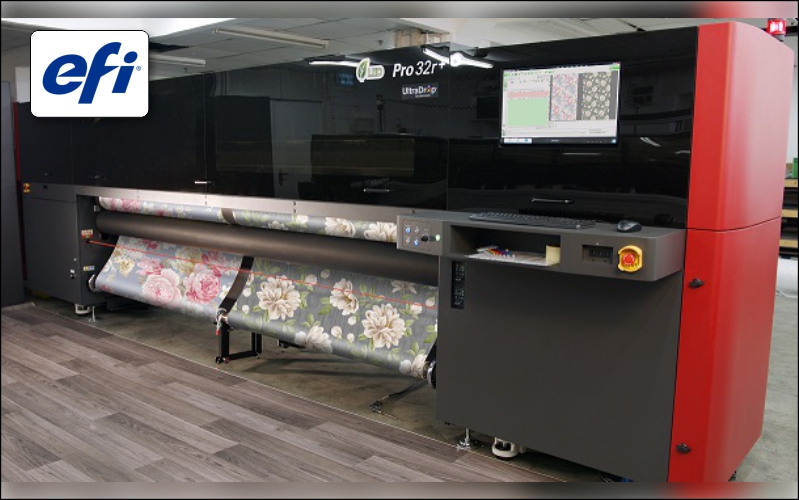 EFI Roll-to-Roll Printers Receive Type II Certification for Wallcoverings with No Lamination or Coating
18 May 2021: Digital inkjet roll-to-roll UV LED printers from Electronics For Imaging, Inc. continue to deliver innovations for superwide-format graphics production printing and they have now achieved an important certification for the quality and durability of prints used for décor applications. EFI™ roll-to-roll UV LED printers have earned a Type II certification for wallcoverings based on The Wallcovering Association W-101 and ASTM F793 standards.
Wallcoverings submitted to gain the certification were printed and tested on the 20 oz. DreamScape® line of wallcovering base material from Rockaway, N.J-based Roysons™. The Type II certification is an indicator for quality, safety and durability of wallcoverings and unlike other Type II certifications for digital inkjet printers, EFI's new certification covers wallcoverings produced without lamination or coating.
"These certifications should assure print service providers that the product they can produce meets all of the critical regulatory aspects of a true commercial wallcovering," said Roy Ritchie Jr., President of DreamScape. "In addition, EFI customers who print on DreamScape base wallcoverings can enjoy increased efficiency and productivity, since they do not require the additional step of coating or lamination to reach this level of durability."
EFI's new Type II certification applies to EFI's extensive portfolio of UV LED roll-to-roll printers – including the EFI Pro 32r+ and VUTEk 3r+/5r+, D3r/D5r, and new Q3r/Q5r printers. The wallcoverings were tested for durability and tear resistance; scrubbability and washability; colour fastness; Class A fire retardancy and safety; and more.
The Type II designation and existing UL GREENGUARD Gold certifications for select inks make EFI roll-to-roll solutions ideal for wallcoverings, décor and other indoor applications.
www.efi.com