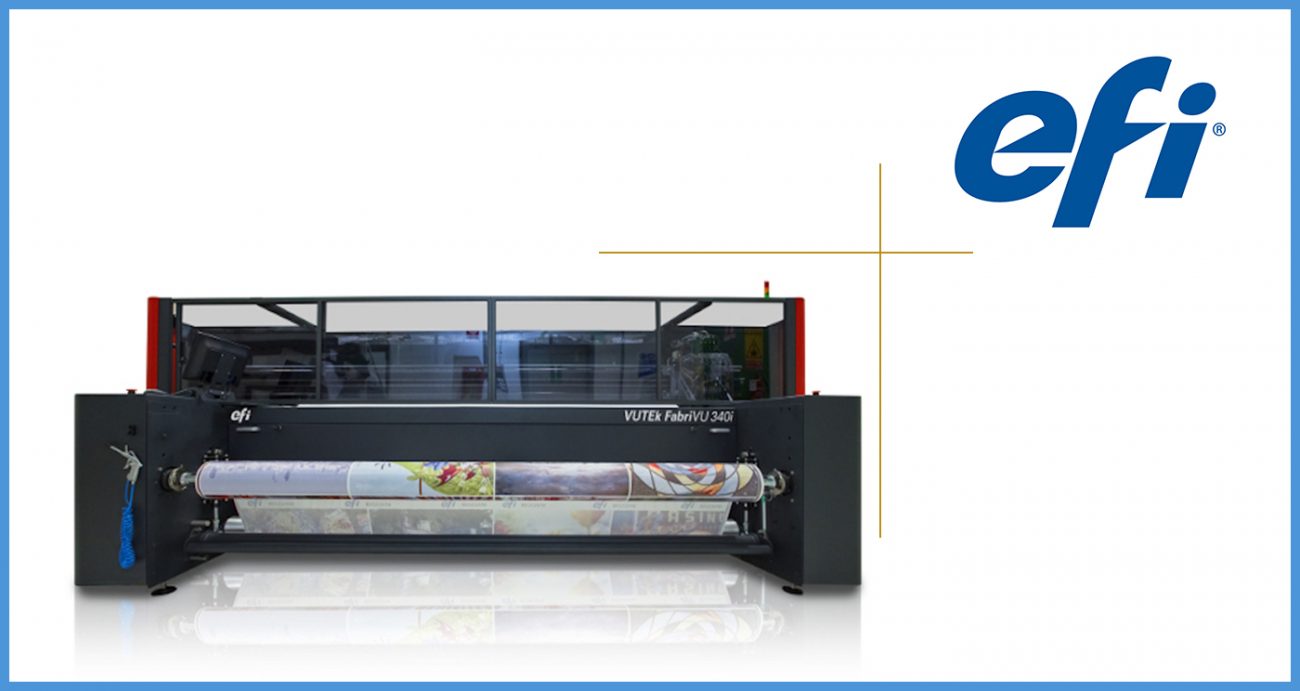 EFI Showcases High Quality, Productivity and Opportunity with New Signage and Textile Technologies at SGIA Expo
18 October 2018, Fremont, CA, USA : Visitors to the 2018 SGIA Expo will see the advanced technologies that can create their future success from Electronics For Imaging, Inc. (Nasdaq:EFII). The company is showcasing eight new products for advanced signage and industrial textile production – innovations that expand one of the industry's leading digital print portfolios. New products include:
The worldwide premiere of the EFI™ Pro 32r, an entry-level, 126-inch (3.2-meter) wide roll-to-roll LED printer shown in the exhibit of EFI channel partner Nazdar SourceOne® (booth 2941);

An enhanced EFI VUTEk® 3r+ superwide roll-to-roll LED printer platform offering a combination of high speed and high quality with new and unique options;

The breakthrough EFI VUTEk h series – a 2018 SGIA Product of the Year award-winning hybrid platform in its North American debut;

The VUTEk FabriVU® 340i, a high-end soft-signage printer offering in-line sublimation;

Previews of the newest-version EFI Fiery® digital front ends (DFEs) for wide- and superwide-format production offering unified print job management with Fiery Command WorkStation® for mixed print technology environments;

EFI Reggiani TERRA, a new system that combines leading-edge textile digital printer technology with new pigment ink and binder offerings for greener, more sustainable industrial textile printing without washing and steaming;

The latest version of EFI Optitex®, O/18, which brings the latest innovations available in 2D and 3D CAD software. O/18 offers features such as an all-in-one avatar solution, enhanced fabric features and cutting-edge marker innovations;

Version 4 of EFI Fiery DesignPro software for efficient creation of inspiring textile designs;

The newest-version EFI Midmarket Print Suite, an easy-to-navigate and user-friendly browser based MIS/ERP workflow for end-to-end signage and graphics production printing management.
EFI, which is in booth 301 at SGIA Expo, is highlighting advanced products that help customers drive growth in high-quality applications. One such customer, retail graphics manufacturer PVS In-Store Graphics, is boosting its capabilities as one of the first users of the EFI VUTEk h series – the next-generation hybrid VUTEk LED printer platform making its North American debut at the SGIA Expo. The company runs several VUTEk printers and chose the 126-inch (3.2-meter) VUTEk h3 printer to further its competitive advantage as a provider of high-end graphics to some of the largest brands in the world.
PVS Co-owner Nick Olsen said of his new printer, "We cut our teeth on fast turn jobs. This fits right in our niche. EFI in our company toolbox is why we are able to be successful. If we didn't have that we would be turning things around much slower. We wouldn't have the clientele that we have."