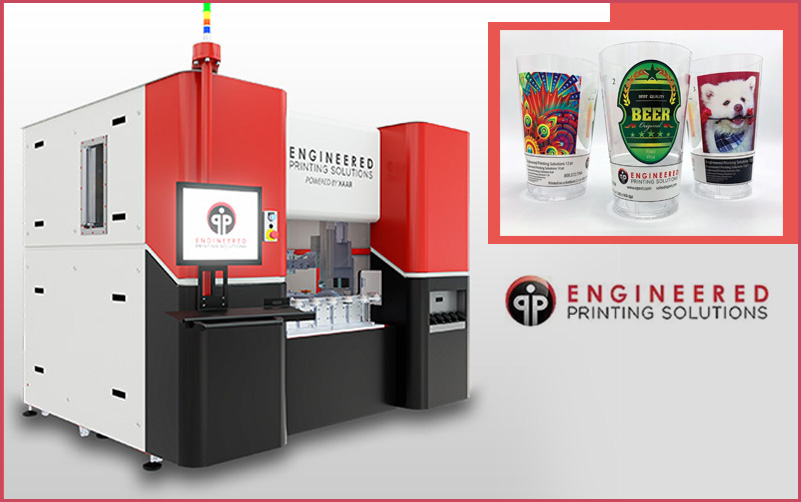 Engineered Printing Solutions, USA Presents Cylindrical Inkjet Printing Machines
21 October 2022: Cylindrical inkjet printers or Rotary UV printers are meant to print directly onto cylindrical objects such as drinkware, glassware, stadium cups, tumblers, barware, shot glasses, water bottles, candles and such other objects. Inkjet Printers offer possibilities of direct-to-shape printing. With rotary inkjet printers one can print in a full 360 degrees directly on an object in full CMYK+W, thus eliminating the step of applying a label to the object.
Joining the bandwagon of cylindrical inkjet printing machine manufacturers is the US-based Engineered Printing Solutions (EPS), a part of Xaar plc. EPS was founded in 1985 and in 2015, they opened an additional 10,000 square foot modern manufacturing space to roll out direct to substrate inkjet printers. In 2016, EPS was acquired by Xaar plc, a world leader in the development of digital inkjet technology. EPS designs different machines for different industries and applications-drinkware, ad specialty, industrial-with throughput speeds from 50 pph to 7,200 pph.
The company offers three models of Direct to Object printers, viz, XD-360° Cylindrical Inkjet Printer, BottleJet Cylindrical Inkjet Printer and BottleJet DualSpin Cylindrical Inkjet Printer. The company has stated that these Direct-to-object industrial inkjet printers are more environmentally friendly.
EPS printers use solvent-free UV inks and drop-on-demand technology, only enough ink is jetted to mark the part, resulting in very little wasted ink. According to EPS's technical experts, direct-to-object printing (also known as direct to shape printing) is just what the term implies: printing branding or other decoration directly on three-dimensional objects such as drinkware, disc brake rotors, packaging for consumer goods. More traditional methods of decorating usually focused on printing labels, which were then applied to the product.
www.epsvt.com