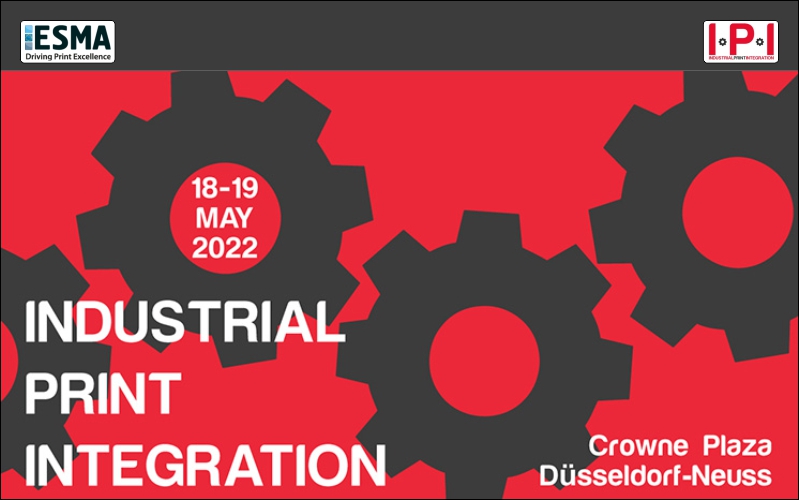 ESMA to Organise Industrial Print Integration Conference on 18-19 May 2022 in Germany
07 February 2022: European Specialist Printing Manufacturers Association (ESMA) are gearing up to organise the Industrial Print Integration (IPI) Conference on 18-19 May 2022 at Crowne Plaza Düsseldorf-Neuss, Germany. The return of the pandemic had compelled the postponement of the conference which was to take place in 2021. Industrial Print Integration (IPI) is an ESMA event, supported by its partner drupa and with Specialist Printing Worldwide as the official journal.
ESMA members and partners – manufacturers, suppliers, providers and consultants, all of them leading print technology experts – are best placed to showcase and explain the disrupting power of print. IPI brings together experts from all industrial print technologies to consult on best case options as well as to provide tips on new developments, allowing manufacturers to compare strengths and identify best practices. Screen and pad printing, inkjet, spray coating, as well as other jetting techniques are all welcome to offer their solutions to today's market's crucial issues, including technology, sustainability and new business models.
In the run-up to the IPI conference, a preview sessions is being organised to interact with various conference speakers and exhibitors. During a series of free webinars, IPI supporters give short presentations and are open to discuss audience questions. There will be presentations on Water-based inkjet for packaging and decoration, Direct printing on glass and The dangers of too narrow approach in the development of industrial applications.
For decades, specialist printing has been the source of industrial application solutions: Healthcare and pharmaceuticals, automotive, printed electronics, Internet of Things but also the growing success of additive techniques have established print as a manufacturing solution. The expansion of fluid deposition systems on diverse surfaces and across various markets have proven how versatile printing can be. But many applications are only at the beginning of this integration process, learning the power of expanding, combining, or evolving technologies.
So, the goal of Industrial Print Integration is to introduce industry partners to a world of new manufacturing possibilities. The IPI conference will demonstrate the adaptability of a number of print processes from large to small, from ultra-precision to high speed, from volume production to customisation and "mass customisation".
ESMA is the knowledge hub for the industrial, functional and specialty printing markets. ESMA was founded in 1990 as the European association of screen printing equipment manufacturers. ESMA's focus lies on all industrial, functional and specialised printing applications, as well as graphic applications that lead to disruptive developments in printed interior decoration, printed electronics, plastics (IMD and FIM), textiles and glass.
www.esma.com