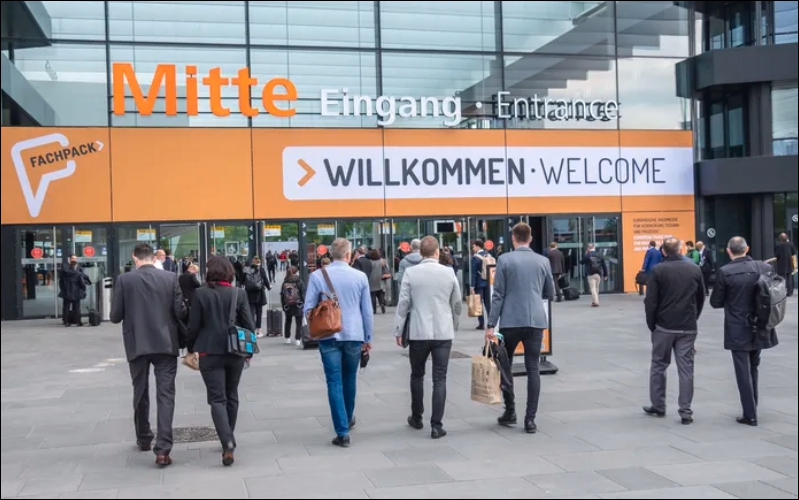 FACHPACK 2021 – A bustling celebration for the packaging industry
04 October 2021: FACHPACK 2021 drew to a close on 30 September 2021. For three days, the trade fair for packaging, technology and processes was brimming with innovation and inspiration for the packaging sector. And the pleasure of being able to meet with customers and business partners in person was palpable throughout the exhibition halls. A total of 788 exhibitors from 33 countries were on hand to answer specific packaging questions from about 24,000 trade visitors. Of the trade visitors, one in three had travelled to Nuremberg from outside Germany. Access to the trade fair with e-tickets and verification of "3G" status (proof of having been vaccinated, tested or recovered from COVID) at the entrances was quick and uncomplicated.
The aisles were busy, and there were crowds around the stands: strolling through the exhibition halls and in conversation with exhibitors it was possible to catch phrases such as, "The investment definitely paid off!" "We're pleased we weren't put off by the risk," or "The exhibitors who were optimistic have been rewarded." The supporting programme also proved highly popular. About 9,500 audience members followed the 101 product presentations in the PACKBOX, TECHBOX and INNOVATIONBOX forums.
FachPack covered a comprehensive range of products from the entire packaging process chain, from packaging materials and machines to printing and processing, logistics systems and services. Forty-one percent of the exhibitors and about one-third of the visitors travelled from outside Germany, mainly from Austria, Switzerland, Italy, the Netherlands, Turkey, the Czech Republic, Poland, France and Belgium.
The exhibitors had particular praise for the high quality of the industry professionals. That is backed up by the results of a visitor survey by an independent institute: some 90 percent of the trade visitors said they were involved in the purchasing and procurement decisions in their companies. About two-thirds of them held senior positions, and more than one in five were from management. The visitors came mainly from the food and beverage, pharmaceutical and medical, cosmetics, chemical, electronics and automotive industries.
The next FACHPACK will take place in the Exhibition Centre Nuremberg in its usual sequence from 27 to 29 September 2022.
www.fachpack.de