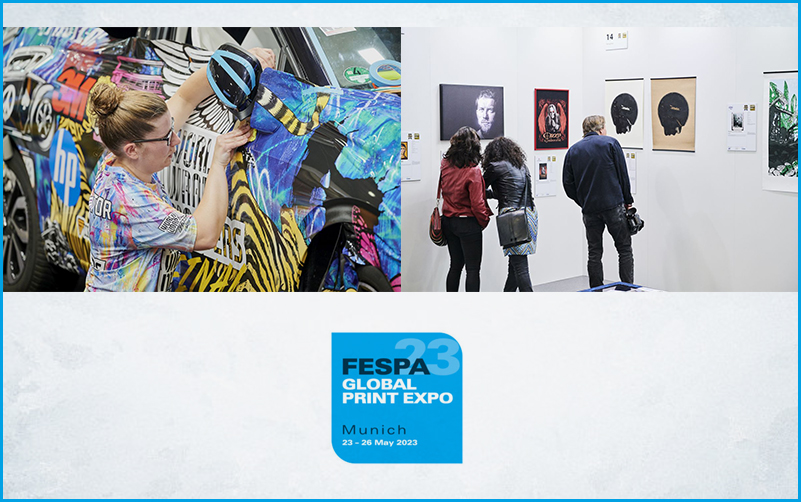 FESPA Confirms Feature Programme for FESPA Global Print Expo 2023
13 April 2023: FESPA Global Print Expo 2023 (23-26 May 2023, Messe Munich), co-located with European Sign Expo and Personalisation Experience, will see the return of three popular FESPA visitor features – World Wrap Masters, FESPA Awards and Sustainability Spotlight.
World Wrap Masters
FESPA Global Print Expo 2023 will host the World Wrap Masters Europe and Series Final (stand B2-D85), kicking off on Tuesday 23 and Wednesday 24 May with the final regional qualifying event – Wrap Masters Europe.
The successful competitors from days one and two will then go on to compete against winners of the regional heats in Belgium, Denmark, Finland, Japan, Mexico, The Netherlands, Norway and UK & Ireland. The final, which takes place across Thursday 25 May and Friday 26 May, will feature a series of timed events requiring competitors to wrap cars and surprise objects against the clock.
FESPA Awards
This year also sees the return of the FESPA Awards, which opened for entries in May 2022 for the first time since 2019. Over 210 submissions from 34 countries have been received and judged by a panel of independent experts. The shortlisted entries will be displayed in the West Entrance of Messe Munich for visitors' enjoyment throughout FESPA Global Print Expo 2023 and the category winners will be announced in a VIP ceremony on 24 May.
Sustainability Spotlight
This year, Sustainability Spotlight (stand B2-B61) offers visitors the opportunity to see and touch a wide range of environmentally responsible graphics and textile material samples, including leather and leather alternatives, natural fibres, cellulosics and synthetics supplied by participating companies. Each substrate will feature an information card so participants can learn more about its sustainable attributes and how to produce innovative, environmentally-conscious products.
New online information hubs
FESPA is also launching a new online Sustainability hub, which will provide free and universal access to FESPA's extensive content on this topic. This includes the FESPA Planet Friendly guides, which detail up-to-date environmental information and legislations, and over 150 informative articles and best-practice case studies on how to implement environmental performance improvements in a speciality print business. The hub will also feature a new, on-demand video series hosted by FESPA sustainability expert Graeme Richardson-Locke.
Michael Ryan, Head of FESPA Global Print Expo, comments "Visitors to FESPA exhibitions are always looking for ways to increase their industry knowledge, find inspiration and learn from other printers and visual communicators. Our popular features are set to deliver just that and, with the return of the FESPA Awards, we're showcasing the diverse talent that exists across our global print and signage community."
www.fespaglobalprintexpo.com/whats-on
Register for FESPA Global Print Expo 2023, and the co-located European Sign Expo and Personalisation Experience, visit: https://www.fespaglobalprintexpo.com/. Entry to all three exhibition areas is free for members of a FESPA national Association or FESPA Direct. The ticket price is €50.00 for non-members who pre-register using code FESM316 before 23rd April.