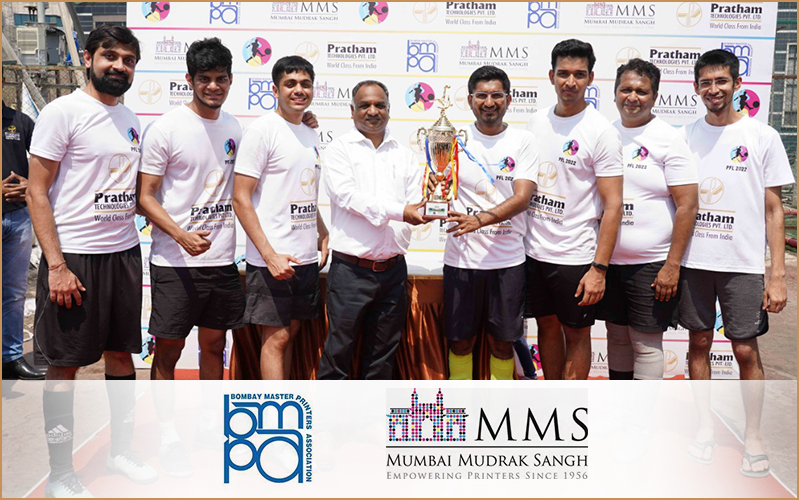 First Edition of Printers' Football League Organised by BMPA-MMS in Mumbai
06 April 2022: First edition of the Printers' Football League (PFL) was organised on March 12, 2012 at Astro Park, Raghuvanshi Mills in Mumbai. The football tournament was marked with power-packed sporting action and fun-filled football, dining and bonding. Vishwamdev Bhotica, Technical Director at Shree Arun Packaging, a young industry leader and a passionate footballer led the Cyan team to victory in PFL 2022.
As a regular player of football, Vishwamdev commented "Since BMPA-MMS had been organising a cricket league annually, it was about time we gave some focus to the most popular sport in the world, the football.' I enjoy playing football a lot, so it was a straightforward decision to participate when PFL 2022 was kick-started. Further, it was an opportunity to bond with the entire print fraternity and break the ice. It was an intense game of football spread over a sweating Saturday morning, just when the weather decided to turn on the temperature.
Vishwamdev suggested that next time some time should be spent for team practice. And he also urged more players to come forward next time from the entire print fraternity across the country to give PFL a national identity within the printing industry.
Member of BMPA's MC and project-in-charge Tushar Bhotica has championed the Printers' Football League 2022 along with Sidharth Rawat. He said that football, the second most popular and played sport after cricket in India, is rapidly gaining popularity among youngsters across the country. He said that the youngsters in the printing industry are fans of this fast-paced, action-packed sports event. "That's why we decided to organise the first edition of PFL 2022 so that we could create a new platform to engage the young blood."
Tushar acknowledged that Varad Deshpande, Director of Pratham Technologies, was personally present throughout the PFL 2022.
"BMPA-MMS has also organised Badminton Tournament in the past for its members. Moreover, Printers' Premier League (PPL), a cricket carnival, has been quite popular over the past half a decade, like a sporting event for the printing fraternity and its families. These sports events have successfully brought printers together, season after season.
Jigar Satra, Project in charge of the Yellow team said "Unlike other industry events such as conferences, seminars and galas, sporting events are a casual and good occasion to keep people united. On the field of the game, a 100-Crore company CEO is a fellow team player, perhaps with another player who must be a machine operator, running a single machine in the printing unit. So bonds matter in a sports tournament."
So, for BMPA-MMS members, this unique value proposition of sporting events such as PPL and PFL has made them overwhelmingly successful.