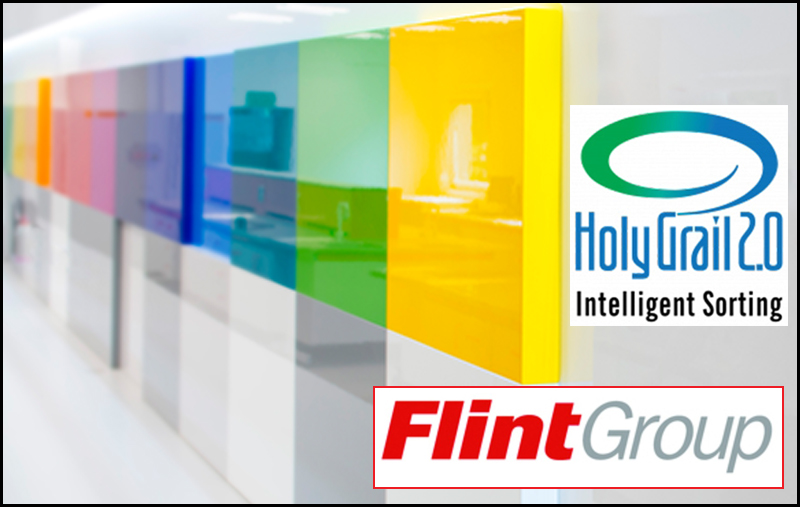 Flint Group Packaging Inks Joins Groundbreaking HolyGrail Intiative to Accelerate Circular Plastics Economy
10 December 2020: Flint Group Packaging Inks, a global leader in the supply of print consumables and services to the packaging industry, has signed up to the HolyGrail 2.0 project that seeks to solve the complexities surrounding the recycling of post-consumer plastic packaging.
Project HolyGrail was established in 2017 to speed up the transition to a global circular economy for plastics by improving recycling rates through more effective, high quality sorting of materials. In 2020, the second phase of the project, HolyGrail 2.0, was launched to open it up as a cross-value chain initiative with greater scale and scope.
Partners involved in the project are exploring the viability of tagging packaging with unique, machine-readable codes to improve automated detection and sorting within current recycling systems. One technique being considered is to apply an optical code utilising digital watermarking technology. The watermark would be applied directly within the packaging artwork and printed onto the expanse of the printed package, usually in a repeatedly tiled manner.
Paul Winstanley, Senior Director, Technology & Innovation at Flint Group Packaging Inks, commented: "HolyGrail 2.0 aligns perfectly with our vision to support the packaging industry achieve a circular economy by developing responsibly-built products and sustainable solutions. It made absolute sense to commit ourselves to working with the European Brand Association ('AIM'), which is spearheading the project, and other HolyGrail partners, to further develop this technology that will significantly increase the recycling of plastic packaging.
One of the biggest hurdles to achieving high volumes of quality recycled plastics lies in the complexity of contemporary packaging designs. While there are numerous packaging formats in use, in many material combinations, current sorting technology is only capable of recognising a limited number of polymers. By incorporating codes into packaging, the sorting system could 'read' a range of important information relating to the packaging manufacturer, SKU, type of plastic used and composition, as well as food vs non-food-grade properties.
www.flintgrp.com