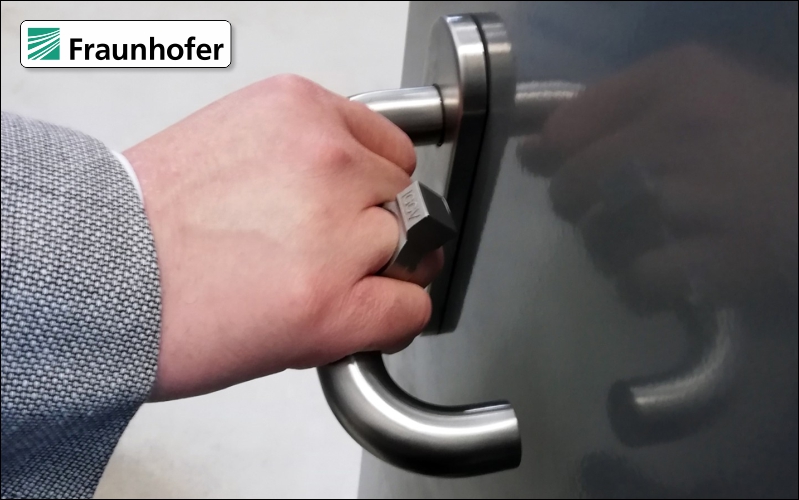 Fraunhofer Institute Developes Smart finger ring with integrated RFID chip
22 September 2021: House key, wallet, health insurance card, hotel key card – a smart finger ring could replace all these in the future. Produced by a 3D printing process, the ring has an integrated RFID chip, tamper-proof, sealed and invisible. The technology of integrating electronics during 3D printing can of course be used for other applications too. The multifunctional ring was developed by a research team at Fraunhofer Institute for Casting, Composite and Processing Technology IGCV.
Now, where's my house key – could I have left it in the office ? And when we want to pull out our wallet at the supermarket checkout, we often find that it's somehow made way to the bottom of the shopping bag in all the hustle and bustle. A smart ring could soon put an end to such frantic searches: Concealed inside the ring is an RFID tag that is able to pay at the checkout, open the smart front door, act as our health insurance card when attending a medical appointment or replace the key card in a hotel. It might also be possible to save medical data such as our blood group or drug intolerances on this chip: In an accident, the emergency physician would have all the necessary information to hand. Researchers at Fraunhofer IGCV developed the intelligent ring as part of the MULTIMATERIAL Center Augsburg. The large-scale project, sponsored by the Bavarian Ministry of Economic Affairs, Regional Development and Energy, is divided into ten individual projects – including the KINEMATAM project, which came up with the idea and the demonstrator model of the smart part.
More important than the ring itself, however, are the manufacturing process and the ability to integrate electronics while a component is being produced – even at places within the component that would otherwise be inaccessible. The inside of a ring, for example. We can refer to 3D printing in the broadest sense to describe a production process, but in technical jargon, it would be called "powder bed-based additive manufacturing". The principle is this: A laser beam is guided over a bed of fine metal powder. At the point where the 80 micrometer laser spot hits the powder, the powder melts and then solidifies to form a composite material – the rest of the metal, which is not exposed, retains its powder form. The ring is built up layer by layer, with a cavity left for the electronics. Midstream, the process is halted: A robot system automatically picks up an RFID component from a magazine and places it in the recess before the printing process continues. This precisely controllable production technology is opening the door to a host of possibilities for realizing completely individualized ring designs. And the chip is sealed by the ring, making it tamper-proof.
www.fraunhofer.de