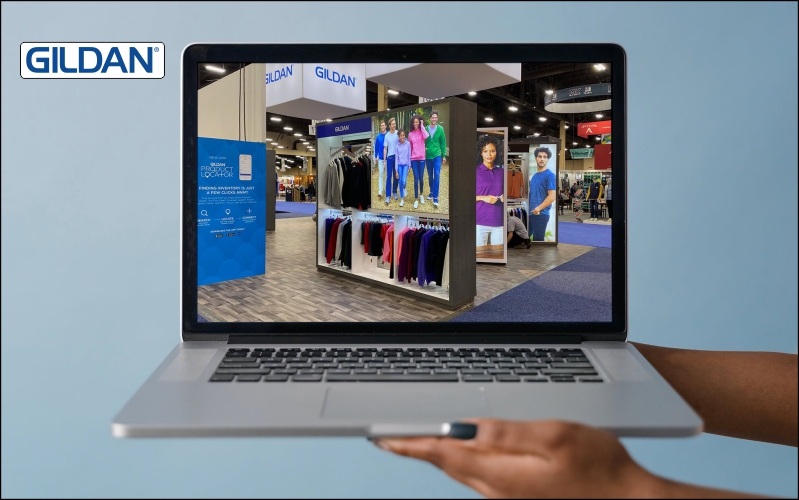 Gildan Takes 2021 Trade Shows Online
11 April 2021: In the printwear channel, the beginning of the year is synonymous with trade show season, but in 2020 and 2021, everything is different. Trade show exhibitions have been forced to move online amid the continuity of the COVID-19 pandemic, forgoing, for the time being, face-to-face interactions.
Karla Schoenfeld, Director of Marketing, shares how Gildan® and its family of brands, including renowned American Apparel® and Comfort Colors®, were able to adapt to the new landscape:
Can you tell us what the benefits are of participating in trade shows?
Trade shows have long been a wonderful opportunity to create meaningful connections with our B2B customers. They enable us to showcase our latest products, provide impactful information, promote our initiatives, like our Board of Decorators or our MyGildan product locator app, as well as share our newest marketing collateral. Trade shows are also a great opportunity to interact one-on-one with our customers to discuss their specific needs while allowing them to see and feel the fabrics and styles.
For our team, participating in trade shows allows us to stay up-to-date with the latest trends and see what's new in the industry.
What made trade shows move to a virtual format?
As the spread of COVID-19 continued to be a global issue through 2020, it became evident that our regular trade show season would come to life in a very different way. Many players in the trade show organizing space started to investigate different options, and virtual events slowly became the obvious choice for all.
On our end, we had started to do research on virtual trade shows in Q2 of 2020, and this gave us a good base of knowledge and foundation to lean on when the situation remained unchanged later in the year. Because of that, my team and I were able to quickly retool our entire trade show experience and adapt it to a digital format under a pretty short turn-around time.
What was the transition like?
Though the timeline was tight, we were able to have a smooth transition thanks to the collaboration of various teams and our initial research conducted earlier in 2020, which gave us a good head start.
We have incredible people at Gildan who, year after year, continue to think outside the box to meet business objectives. Because of that, being dynamic, comfortable with change, and highly adaptable is simply part of who we are as a team, and I believe that mindset and those skills helped us adapt to the new environment.
What did the team learn from the experience?
The takeaway from this experience is that virtual events are here to stay in one way or another. The ease of access to our virtual exhibitions lowered barriers of entry, such as travel, and gave more customers the chance to attend our trade shows and interact with us. We were able to create an online experience that fostered a new appetite for digital interactions, so we'll keep pushing the creative envelop to develop even more digital content in different ways to satisfy our customers.
So, regardless of how the situation evolves with COVID-19, we're looking to keep a virtual component to our events to keep a line of communication open with those who can't travel to attend them.
What do you miss about the traditional in-person trade show?
The people. Our industry is filled with so many talented individuals that have demonstrated exceptional resilience and creativity during COVID-19 and I can't wait to get together in person again! It's hard to replicate the face-to-face connection you have with someone in a virtual setting. Every conversation creates an amazing opportunity to make a connection, educate on our products, and be educated on what our customers truly need and want.