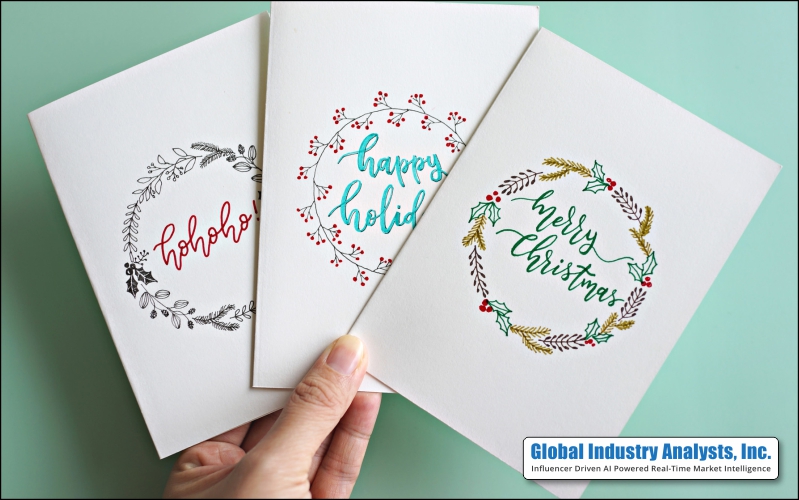 Global Greeting Cards market to shrink
21 May 2021: A new market study has been published by Global Industry Analysts Inc., (GIA). The premier market research company recently released its report titled "Greeting Cards – Global Market Trajectory & Analytics". It presents fresh perspectives on opportunities and challenges in a significantly transformed post COVID-19 marketplace.
Greeting cards reflect the feelings and thoughts of the sender in a relevant way. Although Snapchat and Facebook have made sending instant greetings much easier, younger generations still prefer sending greeting cards. The global market for greeting cards is significantly impacted by changing consumer values, ideas, shifting demographics, and changing technology.
The earlier vibrant greeting cards industry is currently under pressure to sustain in the modern digital technology era. The radical changes in the economy, lifestyle and demographics are resulting in steady decline in demand for greeting cards. With the tech-savvy new generation favoring e-cards in place of physical greeting cards, the impact has been evident on the greeting cards industry.
E-cards hold an edge as they enable customization to suit different occasions. In addition, the growing postage cost appears to be affecting the future of greeting cards. Amid the COVID-19 crisis, the global market for Greeting Cards estimated at US$23 Billion in the year 2020, is projected to decline to revised size of US$20.9 Billion by 2026, declining at a CAGR of -1.7% over the analysis period.
Birthday Cards, one of the segments analyzed in the report, is projected to record a -0.7% CAGR and shrink to US$6.1 Billion by the end of the analysis period. After a thorough analysis of the business implications of the pandemic and its induced economic crisis, growth in the Christmas/New Year segment is readjusted to a revised -2.5% CAGR for the next 7-year period.
The Greeting Cards market in the U.S. is estimated at US$7.3 Billion in the year 2021. China, the world's second largest economy, is forecast to shrink to US$1.1 Billion by the year 2026 trailing a negative CAGR of -1.2% over the analysis period. Among the other noteworthy geographic markets are Japan and Canada, each forecast to record negative CAGR of -1.8% and -2% respectively over the analysis period. Within Europe, Germany is forecast to decline at approximately -2.5% CAGR.
These markets are witnessing decline in growth, constrained by challenges posed by growing social media proliferation and surging popularity of digital e-cards. With the advent of digitalization, social media platforms and messaging apps such as WhatsApp, the greeting card business has been affected considerably. This coupled with rising awareness among people about the need to save trees has led to rising demand for e-cards.
www.strategyr.com