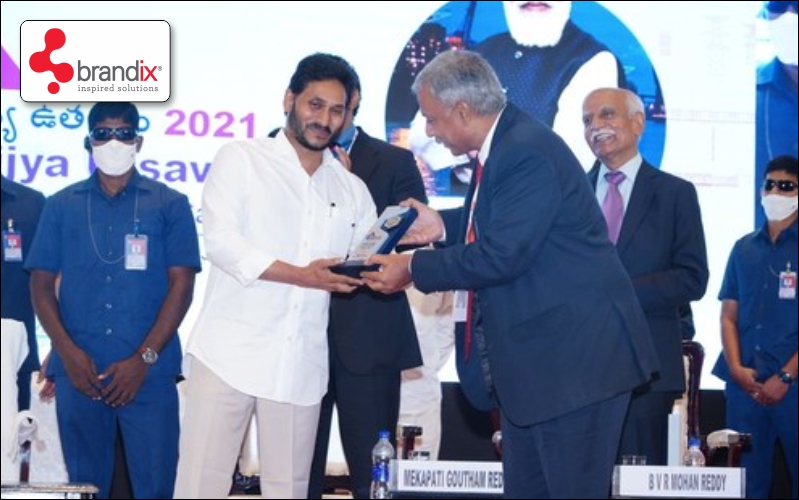 Govt. of Andhra Pradesh recognizes Brandix India Apparel City with 'Export Champion Award 2020-2021'
27 September 2021: India Apparel City was awarded the 'Export Champion Award 2020-2021' at the Vanijya Utsav 2021, Vijayawada in recognition for its valuable contribution towards exports in India. The event was organised by the Govt. of Andhra Pradesh as part of the Azadi Ka Amrit Mahotsav celebration to commemorate 75 years of Indian Independence.
Y. S. Jagan Mohan Reddy, Honourable Chief Minister of Andhra Pradesh, presented the award to Suchira Surendranath, Director, Strategy & Investment and Saravanan Chandramouleeswaran, Deputy Chief Operating Officer of Brandix India Apparel City. Minister for Industries, Commerce and Information Technology of Andhra Pradesh, Mekapati Goutham Reddy, other State Ministers, MLAs, MPs and other officials too were part of the proceedings to mark this occasion.
Speaking on the achievement, Neil Rosayro, Country Head – Brandix India said, "Brandix is honoured to be awarded the 'Export Champion Award' for 2020 – 2021. For nearly 50 years, we have remained true to our purpose of delivering Inspired Solutions through Inspired People to globally renowned brands. This is further reinforced by our expertise in product research and development, unparalleled delivery speed, and an uncompromising commitment to delivering a phenomenal product. We attribute this achievement to our team members whose commitment and tireless efforts have brought in foreign exchange to the national economy while enabling Brandix to position the South Asia region as a hub for quality apparel manufacturing."
PC Doraswamy Pachipala, India Partner – BIAC stated, "BIAC is truly honoured to be awarded the 'Export Champion Award' for 2020 – 2021. The park currently comprises over 15 operating units with more than 20,000 people employed, of which over 90% are from within a 50 km radius from BIAC. We are further proud to note that 17,000 of our total BIAC workforce is female, making it one of the largest number of women employed in a single location in the entire country. We believe this award is a testament to BIAC's continued commitment to uplift communities through livelihoods and an inspiration to all our employees."