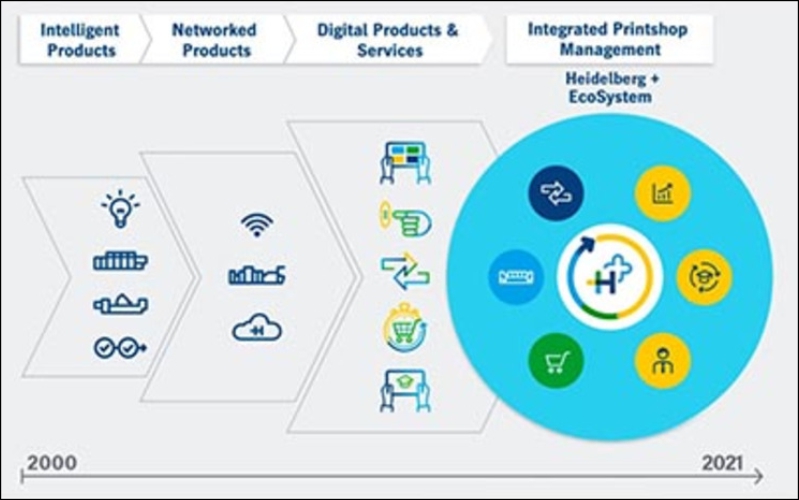 Heidelberg's digital ecosystem given the name 'Heidelberg Plus'
15 April 2021: Heidelberger Druckmaschinen AG (Heidelberg) is taking the digitization of its customer relationships incorporating useful value-added services to the next level. The company is combining all elements of the Heidelberg ecosystem in its new "Heidelberg Plus" digital customer portal. This includes everything from Internet presence with website and eShop to various performance report, monitoring and service applications in the production sector and access to instructional videos plus white papers covering technical aspects and applications. Developments in the areas of cloud technology, IoT, big data, and AI have created new possibilities that Heidelberg will now be systematically harnessing to offer customers further added value.
"Digitized customer relationships coupled with attractive added-value services are the key to establishing collaborative business relationships with customers in our digital world. Our aim is for the Heidelberg Plus ecosystem to simplify the way we work with our customers and offer them more added value," explains Ludwig Allgoewer, Head of Sales and Marketing at Heidelberg.
Heidelberg is thus combining existing applications with new services for customers. In the future, a single point of access is all users will need for a complete overview of all information and tools, networked functions, and the entire Heidelberg service portfolio. This will make it quick and easy to obtain information, purchase items (eShop), and monitor operations. Over 1,600 print shops already use Heidelberg Assistant (HDA) to access their production data.
"What is already impressing users more than anything is the option of using mobile devices to monitor machine operation, purchase consumables, or create service tickets. Regular HDA users range from large businesses with sites located in dozens of different countries to SMEs with just one site," says Allgoewer, summarizing the customer benefits.