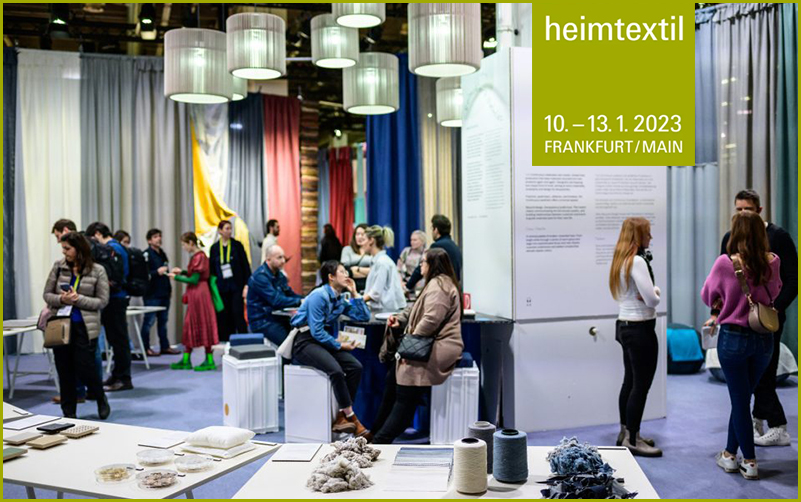 Heimtextil 2023 Ends with Great Internationality and Sets Course for Sustainable Transformation
31 January 2023: Heimtextil 2023 ended with concentrated intercontinental strength and set the course for a successful trade fair year. 44,000 buyers took advantage of the opportunity to participate in the global market for home and contract textiles and to gain a bundled overview of global textile innovations – from fibers, yarns, upholstery and decorative fabrics, functional textiles, outdoor fabrics, artificial leather and wallpapers to bed and bathroom textiles, mattresses, sleep systems, curtains and decorative cushions. The top ten exhibiting countries were China, India, Turkey, Pakistan, Italy, Germany, Spain, Portugal, France and Great Britain. The top visitor countries included Germany, Italy, Turkey, USA, Great Britain, France, the Netherlands, Spain, Pakistan, India and Greece.
"Heimtextil made a powerful return to January and set all the signs for success as a barometer for the trade fair business year – with an outstanding degree of internationalization of 129 participating nations," said Detlef Braun, Member of Executive Board of Messe Frankfurt. Compared to 2020, the leading trade fair for home and contract textiles achieved an increase in the degree of internationalisation – in terms of exhibitors to 94 percent and in terms of visitors to 82 percent. There was growth on the exhibitor side compared to the pre-pandemic edition from Turkey and Pakistan. In 2023, there were also more buyers from Italy, Turkey, Spain and especially Greece.
"We had a fantastic Heimtextil with many new and old contacts. We will continue to participate in Heimtextil in the future. Our customers include major European brands, but we also had visitors from the USA, Japan, South Africa and South America at our booth. Our main customers include IKEA, H&M and Jysk, among others. Our most important message is sustainability." says Shafiqul Alam Selim, Managing Director Karupannya Rangpur Ltd. from Bangladesh.
According to representative surveys, 80 percent of exhibitors had already achieved their trade show goals by the third day. Satisfaction with visitor quality was also very high: 72 percent of visitors were top decision-makers.
In addition to the diverse range of high-quality volume business from Asian exhibitor nations, the focus was also on European design and retail volumes – a mix that resulted in particularly high visitor satisfaction: 92 percent of buyers achieved their trade show goals.
Innovative material developments from natural raw materials such as mushrooms, plant fibers or recycled waste products provide impulses for the future of home textiles. This was clearly demonstrated by the "Future Materials Library" at Heimtextil. But also to the present applies: the majority of the global textile industry has long since set out on the path to sustainably redesigning manufacturing processes and forming strong partnerships and measures for transparent supply chains. To this end, Heimtextil exhibitors offered products, solutions or suggestions at many booths.
The opportunity for personal exchange, inspiration and more know-how was offered by an extensive and multifaceted supporting program. This included guided tours at the trade show, high-profile lectures, events and special themed areas.
www.heimtextil.messefrankfurt.com