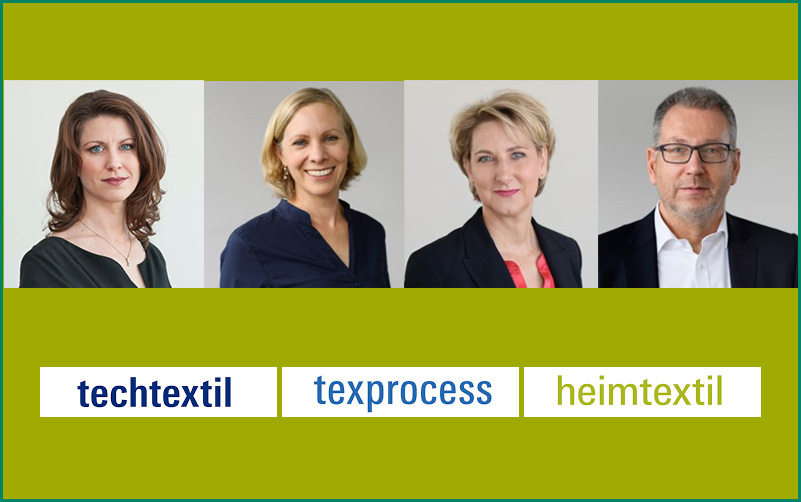 Heimtextil, Techtextil and Texprocess Strongly Positioned for Future with a New Management Team
12 October 2022: The leading trade fairs for technical textiles and nonwovens, as well as for the processing of textile and flexible materials, Techtextil and Texprocess, will be held under new management from 1 January 2023. Sabine Scharrer will take over the position of Show Director from Michael Jänecke, who is retiring after over 30 years with Messe Frankfurt. Sabine Scharrer joined Messe Frankfurt in 1996 and has worked, inter alia, for the company's technical trade fairs abroad as well as managing consumer goods fairs, including Ambiente. Since 2016, the trade fair expert has been responsible for the Home Textiles segment of Heimtextil. In the intervening years, she has been particularly successful in developing the fair's offers for interior architects and interior designers, as well as setting up, inter alia, the Interior.Architecture.Hospitality Library. Moreover, she focused on improving the integration of the upstream segments of Textile Technology and Fibres and Yarns in the fair.
Bettina Bär assumes responsibility for the Home Textiles segment of Heimtextil with effect from 15 September. She forms a dual leadership team with Meike Kern, who successfully leads the Household Textiles segment at Heimtextil. Bettina Bär has been with Messe Frankfurt since 2012. During this time, she has been Show Director in the consumer goods field and, most recently, Show Director of Neonyt, the fair for fashion, sustainability and innovations. In her new position, Bettina Bär will apply her many years of experience in the trade fair business and her profound knowledge of the consumer goods, textile and fashion industries, as well as sustainable developments.
"We are delighted to have found the perfect management team for Heimtextil, Techtextil and Texprocess. Thanks to their experience and personalities, the colleagues will undoubtedly make a decisive contribution to the development of our textile trade fairs and thus strengthen our position as the world market leader in the textile sector. With a team that proactively tackles the current challenges of the industry, we are perfectly prepared for the future", says Olaf Schmidt, Vice President of Textiles & Textile Technologies, Messe Frankfurt.
Michael Jänecke retires on 1 January 2023 after more than 30 years with Messe Frankfurt. He has managed Techtextil since 1992, and in 2013 he took on the additional role of Show Director of Texprocess. With absolute dedication, great expert knowledge and extensive industry experience, Michael Jänecke has played a key role in shaping the leading international trade fairs and building them up to their current importance in the market.
"With the retirement of Michael Jänecke, we are losing the hugely experienced head of Techtextil and Texprocess. Without his dedicated input, the two events would surely not have developed into what they are today: the leading international trade fairs for the industry. During this time, he helped the industry navigate crises and grow. He has established Techtextil and Texprocess as the most important platform for international exchange in the textile industry. He made Techtextil and Texprocess the textile industry's foremost platforms for international exchange. And, last but not least, he was an esteemed colleague whose departure will leave a gap in the Messe Frankfurt team. Even at this early stage, we wish him all the best for his retirement from the beginning of next year", says Olaf Schmidt, Vice President of Textiles & Textile Technologies, Messe Frankfurt.
The event Heimtextil will be held from 10 to 13 January 2023.
The events Techtextil and Texprocess will be held from 23 to 26 April 2024.